DJ-Set @ ARTCONNECT BERLIN Launching Party
I will perform as a DJ at the ARTCONNECT BERLIN Launching Party on Friday, July 15, 2011.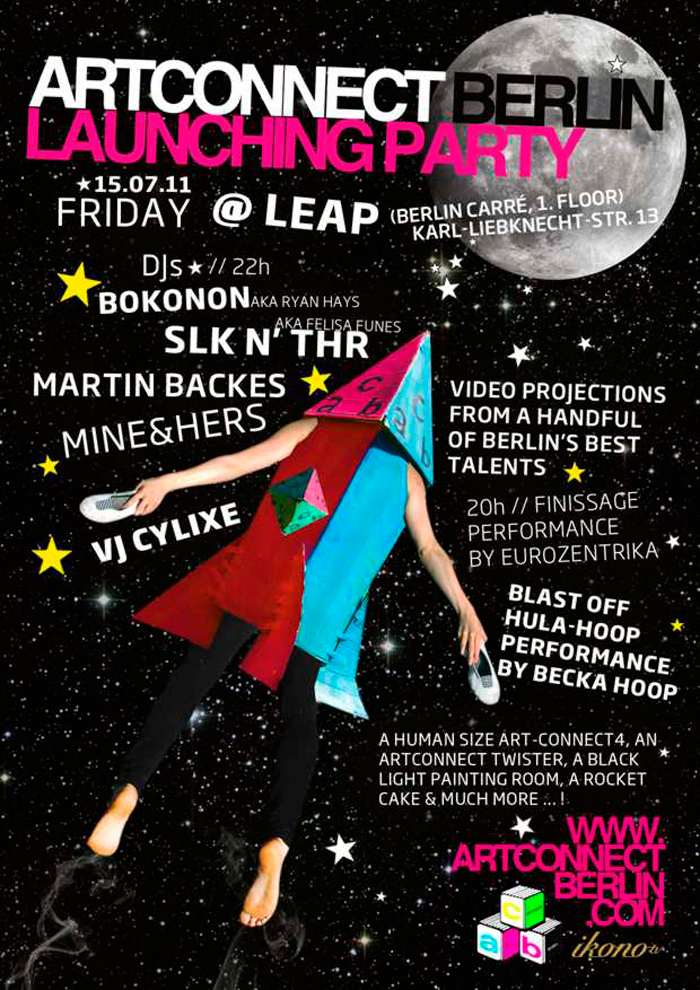 LAUNCHING PARTY ARTCONNECT BERLIN @ LEAP
Friday 15th of July from 22h
@ LEAP
(Berlin Carré, 1. Floor)
Karl-Liebknecht-Str. 13
10178 Berlin
DJs
BOKONON aka RYAN HAYS
CARLOS ARROYO GALAXIA
MARTIN BACKES
MINE&HERS
SLK N' THR aka FELISA FUNES
VJ CYLIXE
VIDEO PROJECTIONS from a handful of Berlin's best talents!
HULA HOOP PERFORMANCE BY BEKA HOOP
A human size ART – CONNECT4, an ARTCONNECT TWISTER, a BLACK LIGHT PAINTING ROOM, a ROCKET CAKE and much more..!
From 20h to 22h
EURIZENTRIKA'S FINISSAGE PARTY
with a performative lecture
and music by Mascha Jacobs & Chris Steininger
LEAP is an independent project space supporting the advancement of experimental artistic practice and production in the area of emerging technologies and performance.
EUROZENTRIKA is a young art & theory group reflecting on current theories, discourses, medial and political polemics on the concept of "European Identity" www.eurozentrik.net
For more info