Upcoming Exhibition & DJ-Set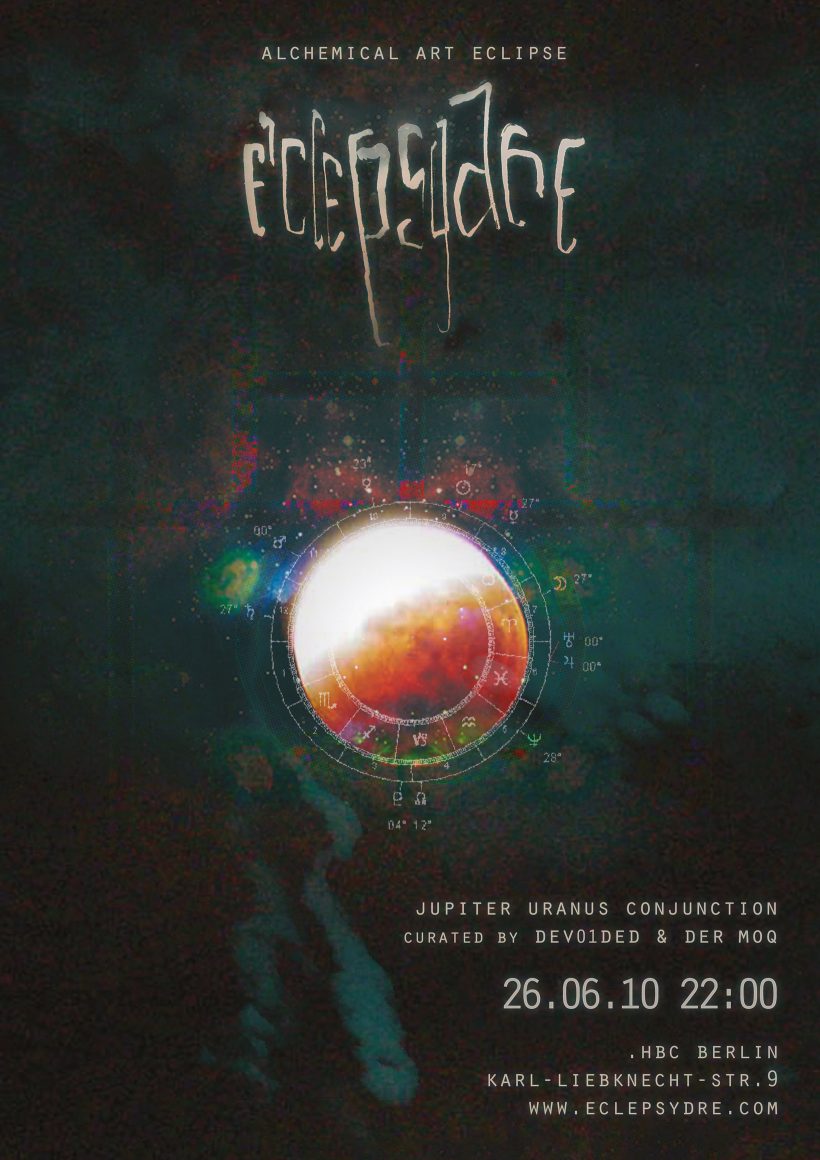 I am part of the groupshow e`clepsydre which takes place at .HBC Berlin on Saturday June 26, 2010.
I will show a new artwork which is still in progress…make sure to come by. I will also do a special afrofuturistic DJ-Set.
e'clepsydre
"The energies of expansive jupiter aligned with disruptive uranus will be actualized in an unpredictable alchemical combination based on soothsaying and iatromathematical principles to transform the .HBC event space into a living, breathing multi-sensorial media-enhanced art, music, fashion, performance organism."
"This microcosmic constellation of imagination incarnate, curated with the current planetary coordinates, and based on their bodily corollaries, will galvanize within a fragile hourglass, ruled by the tumultuous tides of time and tempered by the technological touch of indeterminacy, to concentrate nature and generate a magnificent pendulum of perpetual eclipse for all to witness."
Artists, musicians, performers, and fashion designers collaborate to create many different simultaneous experiences inhabiting open, closed, and even hidden spaces all over the .HBC. Each with a different planet for inspiration the collaborations will form a constellation within the space with the intent of generating a multi-sensory eclipse.
Artists
Albane Lamoril
Amok Amour
Angel Eyekon and the Whining Cunts
Antoine Renard
Ben Bigelow
Brel Froebe
Cabiria
Clara Jo
Corrie Siegel
Dandy Lion Syd
Dazz
dev01ded
Emi
Evan Whale
Erna's War
evaSophia & Topi
Fabrice Defeo
Fette Sans & M.M. Green
Franka Herwig
Graf Mente
h.o.p.e.
Jia Gu
Justin John Greene
Julius Holtz
Le Titanic Ensemble
Liina Nilsson & La Belle Mort
LTNO & Julietta La Doll
Martin Backes
Mirko Mielke
Petja Ivanova
Phillip Hohenwarter
Sean Boylan
St. Bazard
Strange Forces
Tiziano Jian
Tata Christiane / Elisa Cucinelli / Aniaetleprogrammeur
Von Bardonitz
Address
.HBC
Karl-Liebknecht-Strasse 9
10178 Berlin
More info