IT'S A BOOK 2019 Exhibition & Audiowalk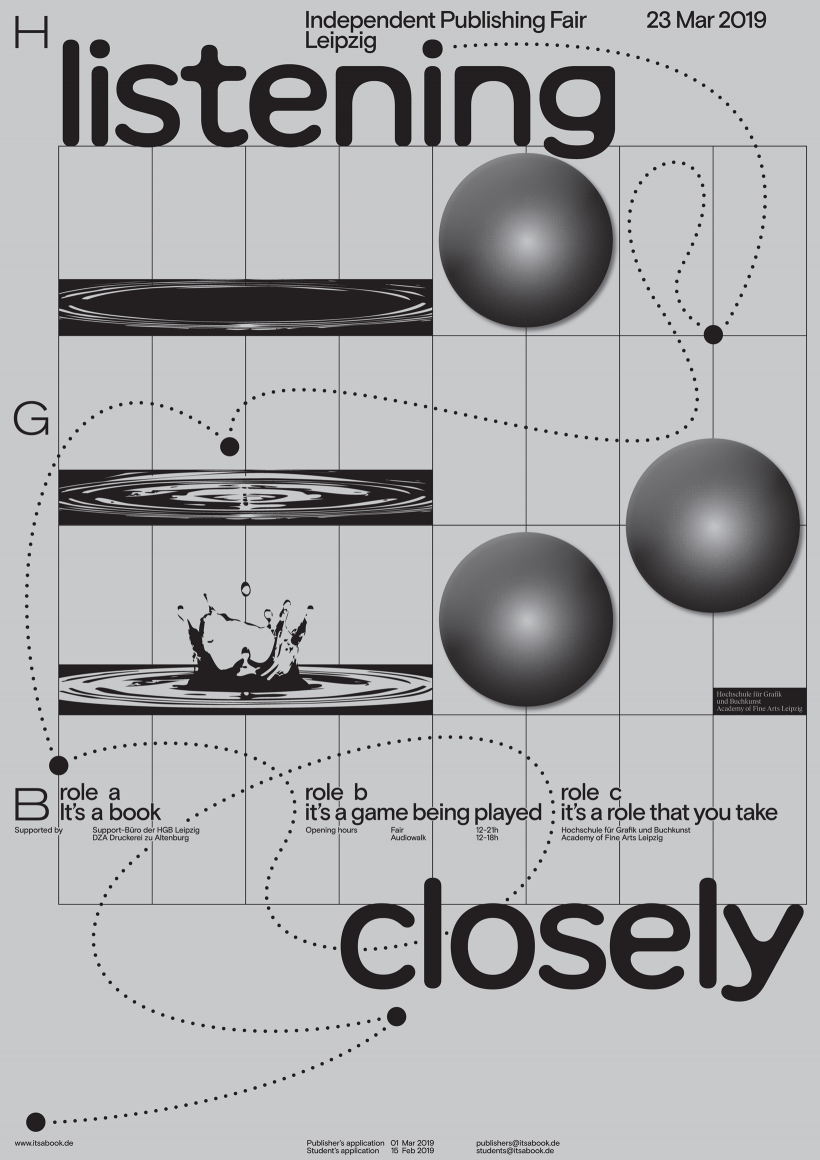 I am presenting my latest work "I am sitting in a machine;" at 'It's a book 2019' in Leipzig, Germany. It will be presented differently this time. You can experience the work in the form of an audio walk instead of a net art piece or a dubplate record.
About
It's a book, the annual gathering of independent publishers and publishing houses, will take place for the tenth time in 2019. Initiated as a market and exchange place for books, ideas, and debates, it sees itself as a form of retreat, of social get-together and as a part of a growing movement.
As the sum of all linked parts—book fair, student publication projects, symposium, and publication—It's a book was organized for the sixth time as part of a project seminar by students of the Academy of Fine Arts Leipzig. There, not only content was (re)developed, but also the established format was questioned. The starting point was, among other things, that the (apparent?) institutionalization of It's a book as regards its external effect contrasts with the constantly changing, heterogeneous grouping of students who act in the background.
In addition, the question of a possible change in the previous form of the symposium of It's a book arouse: Instead of a focused conference with a linear, frontal character 2019 radio play and radio are considered as possible immersive and interactive sites of action. Through the representation and translation of It's a book into other media and languages, new answers to the question of what It's a book is or can be are intended to be found. In this shift, those involved in the project will no longer act exclusively as the ones who develop concepts and organize the event: they will act as producers.
In addition to the book fair and the presentation of student publication projects as the two main components of It's a book, the contents of the symposium will be implemented this year in the form of an interactive and individually controllable audiowalk. Last but not least, this enables a detachment from a firmly established and timed schedule. Parts of the audiowalk are also broadcasted on the independent Leipzig radio station "Radio Blau". The possibility of an on-site panel is planned (about 1 hour) and currently depends on the commitments of possible guests.
The polyphonically collaged audiowalk synoptically deals with topics of language and speech-over, of communication and of (independent) publishing: referring to the topic "manifesto/manifests", which was at the center of the symposium and its publication in 2018, processual and oscillating relationships of written text and spoken language will now be discussed. We will be speaking about the relevance of books, about so-called notions of aesthetic books, about language, about the printed book as a form of speech, about commentaries on language, about speech act and speech act theory, about dialogue, about participation and about the notions of taking part, about relations of transmitter and receiver.
During the preparation of It's a book last year, we identified that the printed word contains a fundamental weakness. It is—of course—manifest, producing its own truths of a postulate that is no longer negotiable. Michael Betancourt also gave us a decisive thought-provoking impulse with his ____________ Manifesto. Or spoken with Wittgenstein: "The limits of my language mean the limits of my world." We now look at how language can function as a tool of dialogue* with oneself and one's own environment. How can a society's development, that narrows the horizons noticeably rather than widening them, makes new horizons visible while living together? And what are the dangers of people unlearning when talking to one another?
Dates
March 23, 2019
Program
12:00 – 21:00 Uhr
BOOKFAIR
12:00 – 21:00 Uhr
AUDIOWALK (Bring your Headphones)
16:00 – 17:00 Uhr
BROADCASTING FROM THE BOOKFAIR AT RADIO BLAU
23.03.2019 ab 22:00 Uhr
IT'S A DANCE
Afterfair Party at Frühauf, Windmühlenstraße 27
Location
IT'S A BOOK, IT'S A ROLE THAT YOU TAKE,
IT'S A GAME BEING PLAYED
Independent Publishing Fair
@ Hochschule für Grafik und Buchkunst / Academy of Fine Arts
Wächterstraße 11
04107 Leipzig
Germany
More info here