New Artwork: Nature Changes Along with Us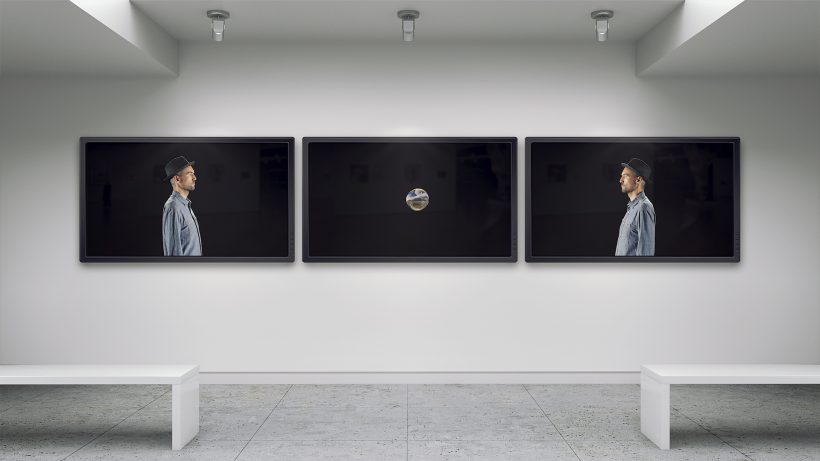 I am very excited to announce that my new work called "Nature Changes Along with Us" is finally ready for the public. The work is basically a generative/algorithmic 3-channel computer/video installation and deals with the human impact on our planet and with our changing notion of nature. It´s the first work of a new series.
About
In this work, seemingly purposeless actions are repeated over and over again. A surreal, absurd situation dealing with the contemporary individual seeking to control nature in a way, which increasingly resembles the monotony of operating machines we have created ourselves. The belief in the ability to exert control over the environment for the well-being of individuals still seems omnipresent. It remains uncertain if such a perception of control goes even beyond a simple desire and is, in fact, a psychological and biological necessity?! Do we need to recognize that in our successful control over nature, we have alienated ourselves from it?
Nature Changes Along with Us
Year of Creation: 2019
Size: variable screen size, at least 55 inches
Duration: generative/algorithmic
Technique: 3x flat screen, computer, custom-made computer program, cables, loudspeakers
Exhibition View
Nature Changes Along with Us is a generative 3-Channel Computer-/Video Installation. One computer, running a custom-made software is attached to three separate monitors (monitors are a must, at least 55 inches, no beamers!) and playing back the whole work in real time (video recordings and CGI). As mentioned earlier, the work is generative (or in other words, algorithmic), which means it`s nonlinear, there`s no start or ending point. The whole system could be described as autonomous, according to instructions and rules pre-programmed by myself. The work could run for 24/7 without any human input within an exhibition space. The video files on the left and right screen are chosen randomly by the software. The physical-based soap bubble within the middle screen is generated in real time (it`s not a video) and is just deforming and changing its position according to the protagonists blowing on the outer screens. The bubble can be also considered as earth because inside the bubble you will find a little rotating world. This world is made out of a 360° HDRi Skybox texture consisting of a desert and sky landscape. Because the video files are chosen randomly when it comes to sequencing and duration, the triggering through the protagonists blowing always occurs differently, sometimes in alternation, sometimes at the same time, sometimes slightly shifted, so ever-different and changing. Additionally, a stereo loudspeaker system is connected to the computer and playing back the sound of the work. Please find the video documentation below.
Gallery View (GIF)

Documentation Video
I also uploaded the video to YouTube. Please find it
here
.
Software
Thanks to Federico we were able to realize the whole project with the visual programming language for music and multimedia called Max (also known as Max/MSP/Jitter). Simulating the behavior of soap films and foams in real-time was quite a challenging task. So we came across this fantastic paper called "A Hyperbolic Geometric Flow for Evolving Films and Foams" by S. Ishida, M. Yamamoto, R. Ando and T. Hachisuka, which was very helpful. We also made parts of the software available. You will find some patches here. Just look for Soap Bubble Shader and Multiple Videos in One Window. Below you will find a screenshot of some parts of the software or rather the GUI we built in order to find the perfect settings for installation purposes.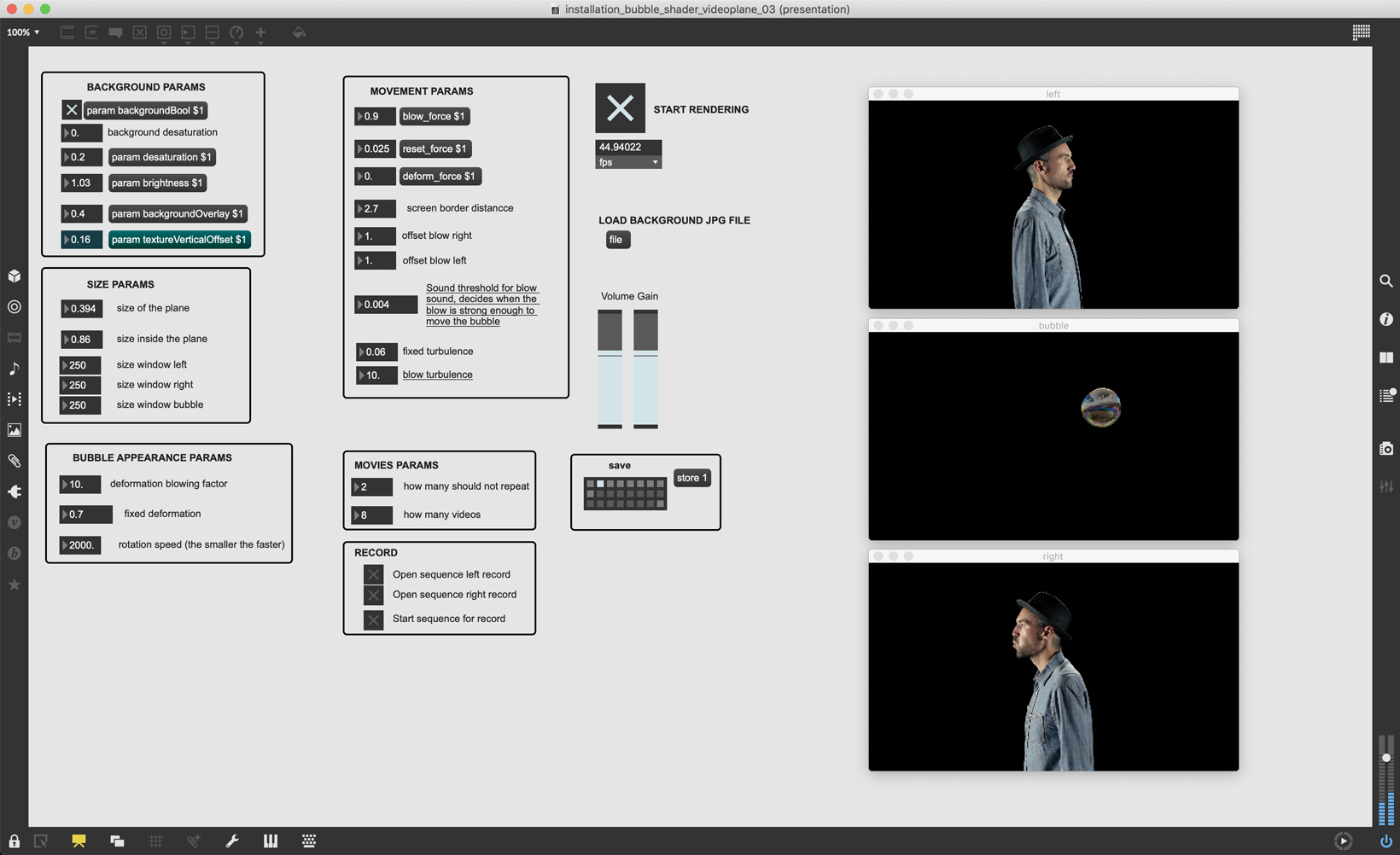 Process and Production
It all started with some sort of protoyping with the aim of verifying that my concept has potential. Here`s a very first patch I have done with Processing, an open-source graphical library and integrated development environment (IDE). With this kind of two dimensional prototype, I simply wanted to simulate a floating bubble within air.
Nature Changes Along with Us – Early 2D Prototype

This is one of the first concept sketches/drawings of the idea with three computer monitors at a gallery space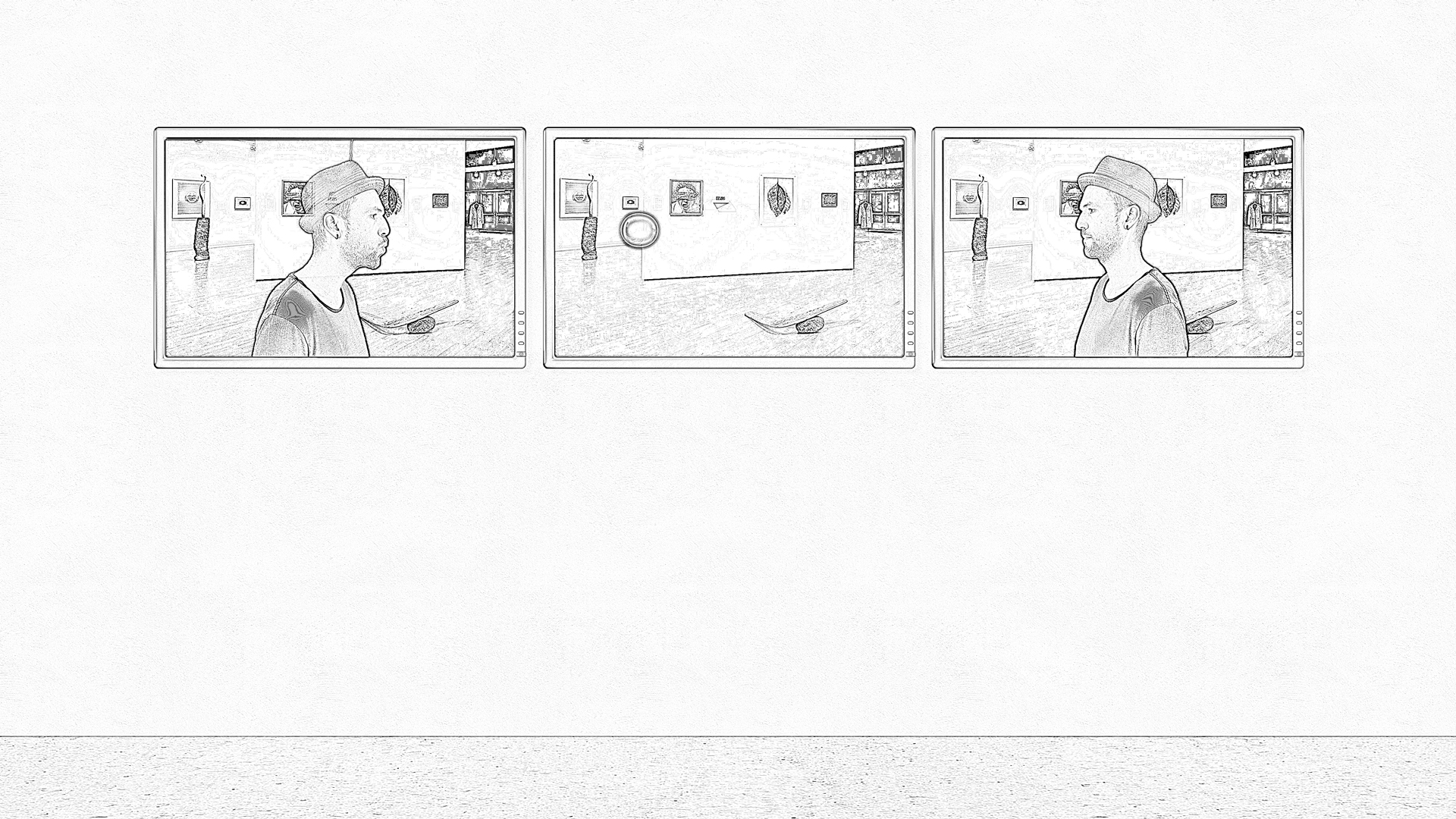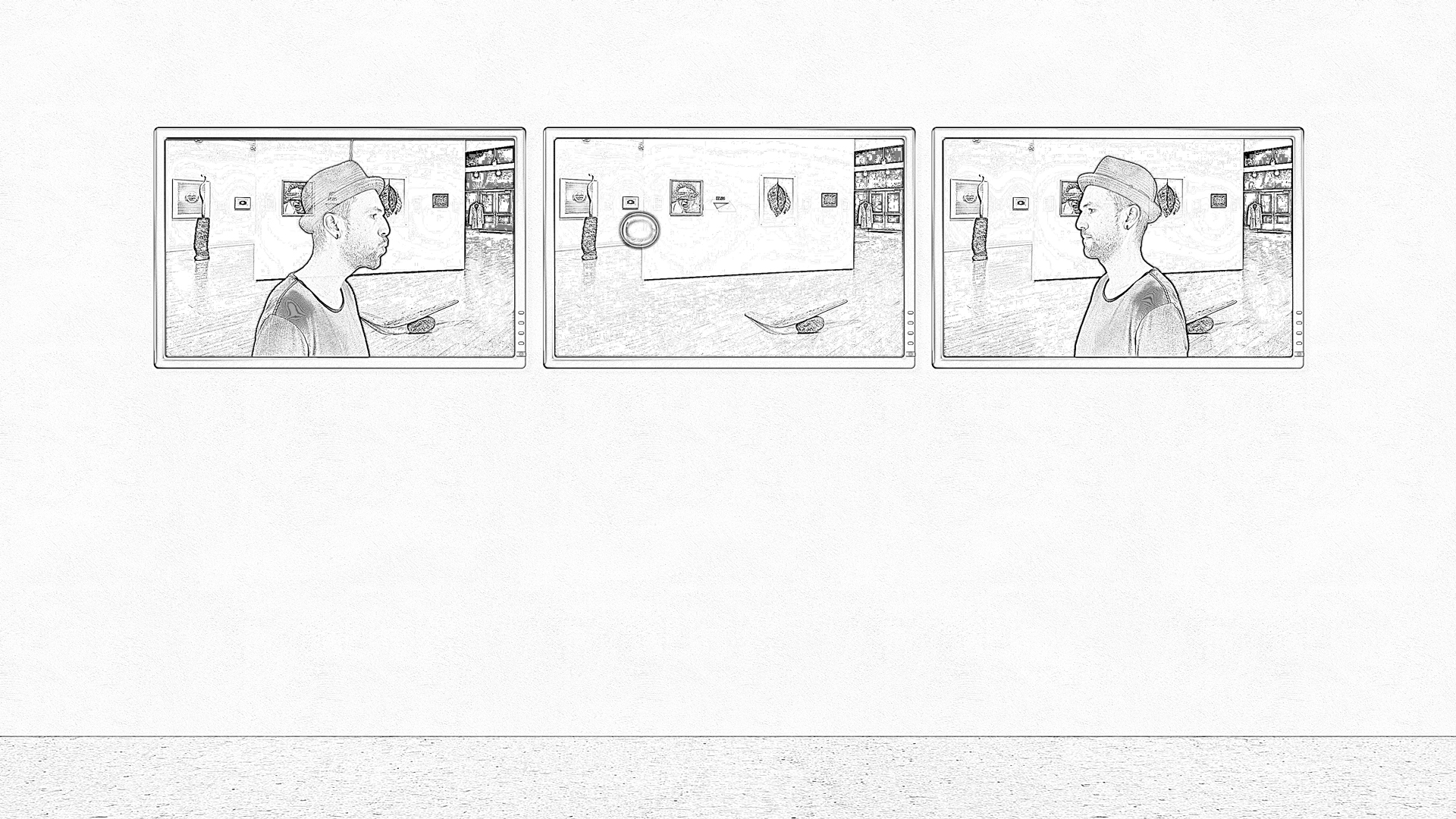 Here`s a very early bubble design for studying movement and behavior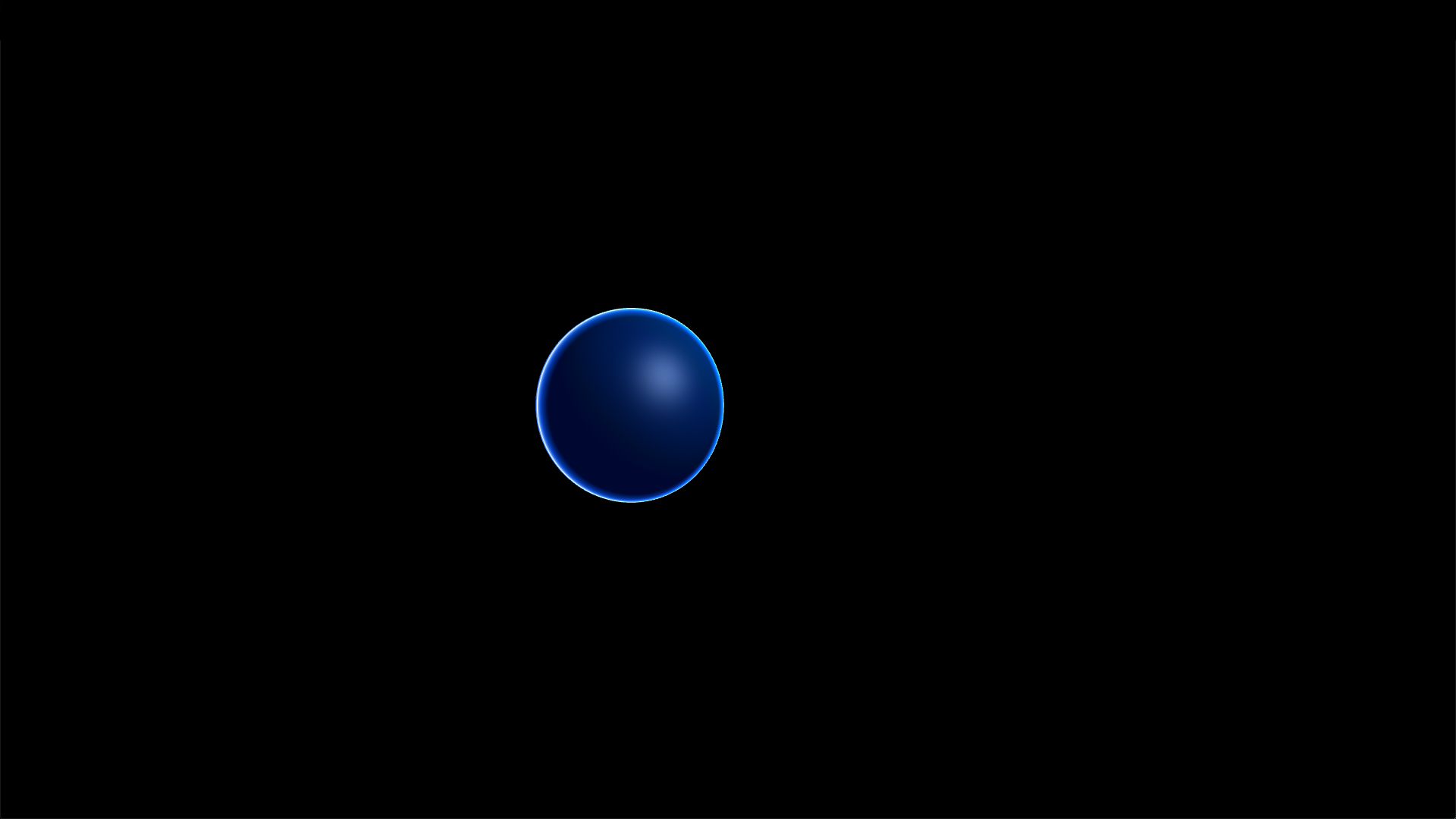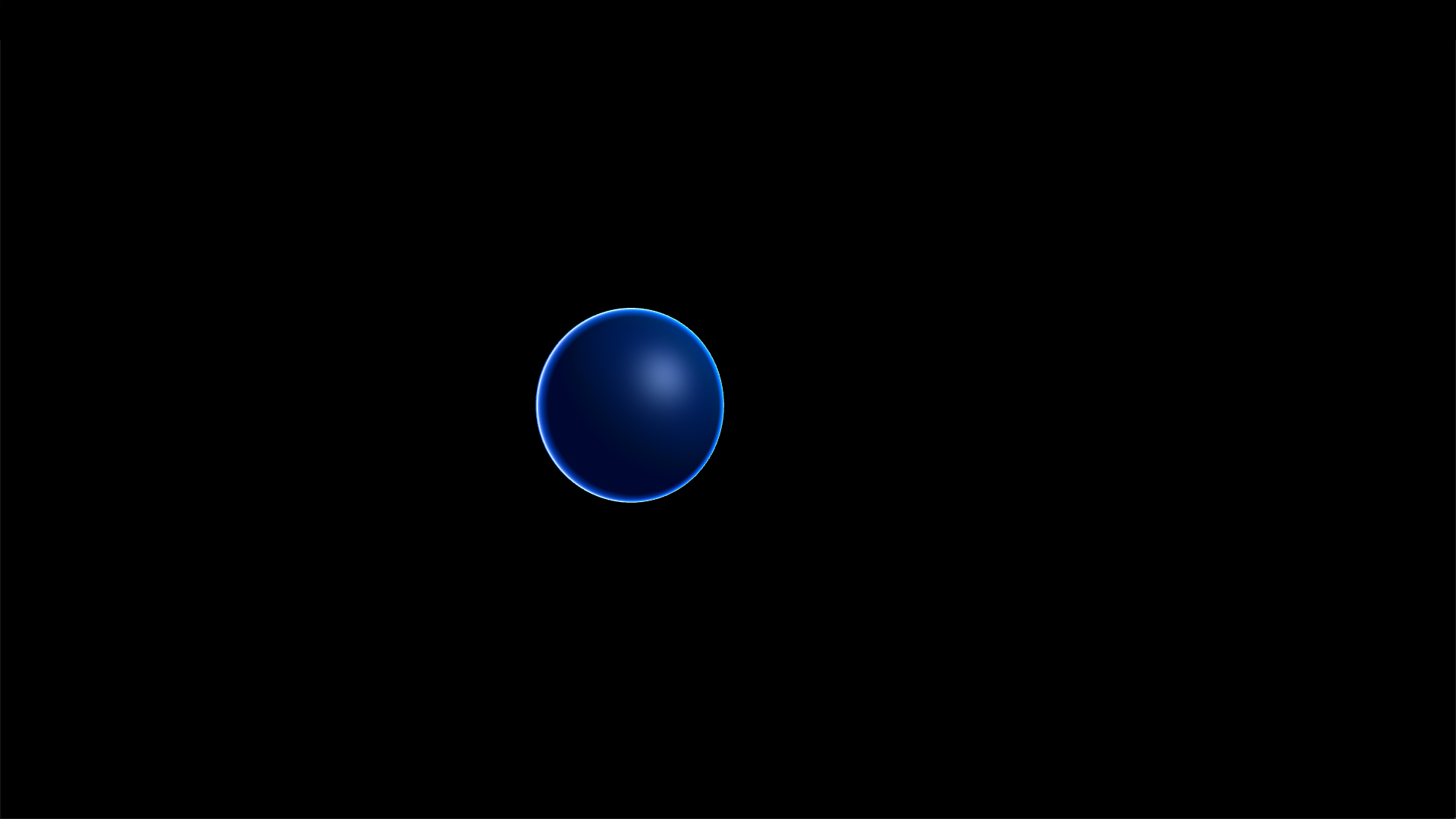 Early Max patch with video dummies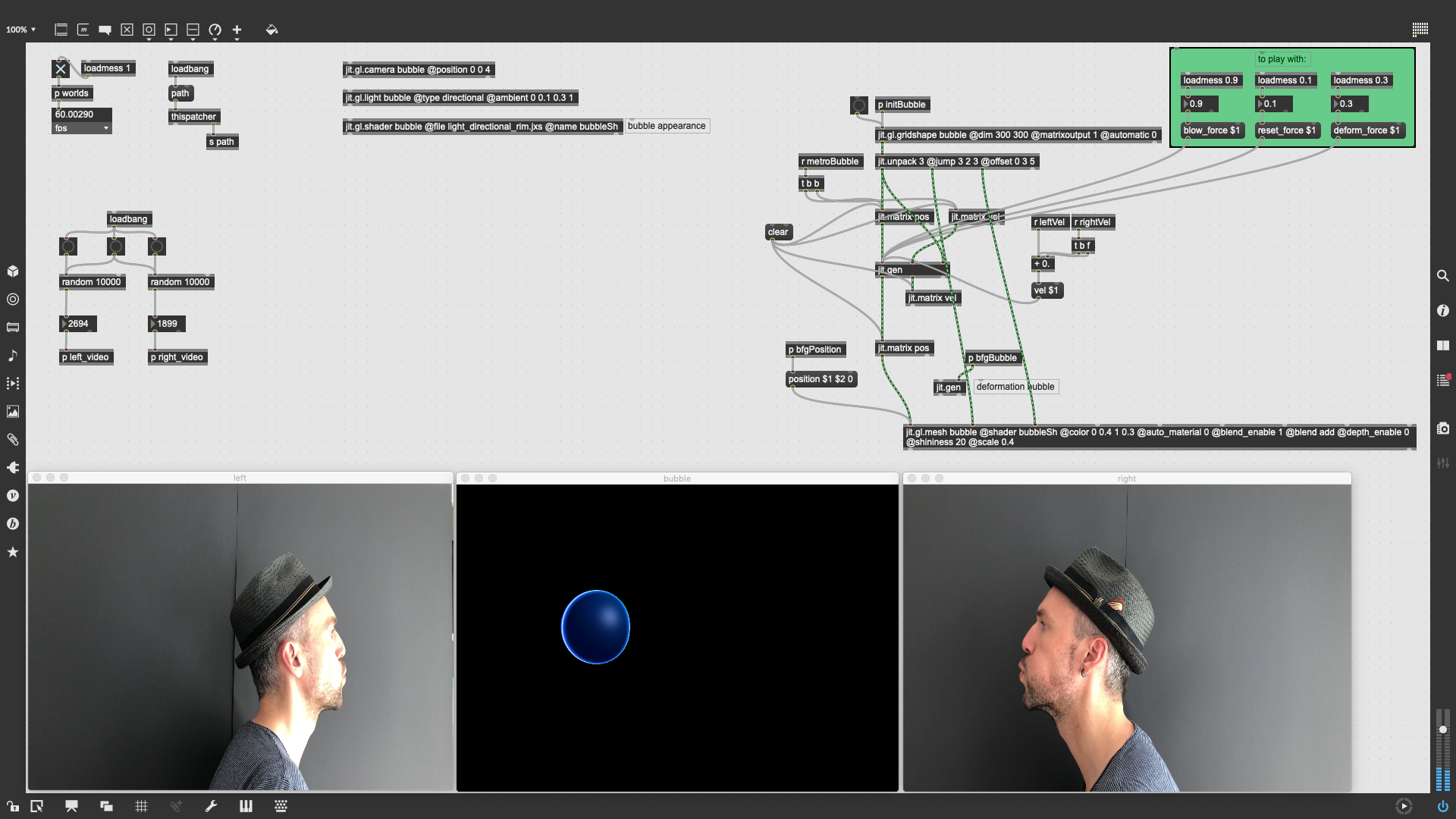 Bubble design at a later stage in the process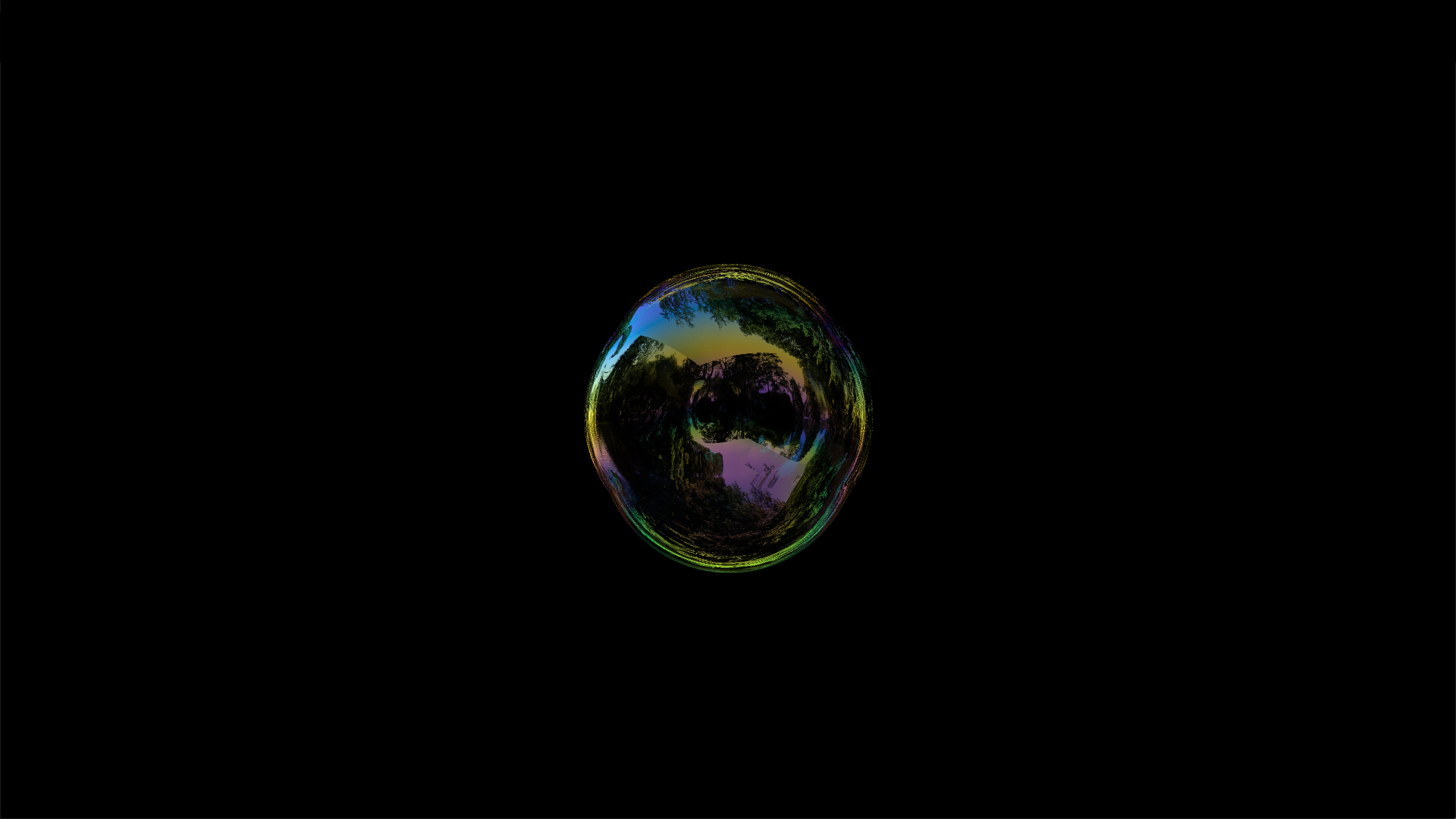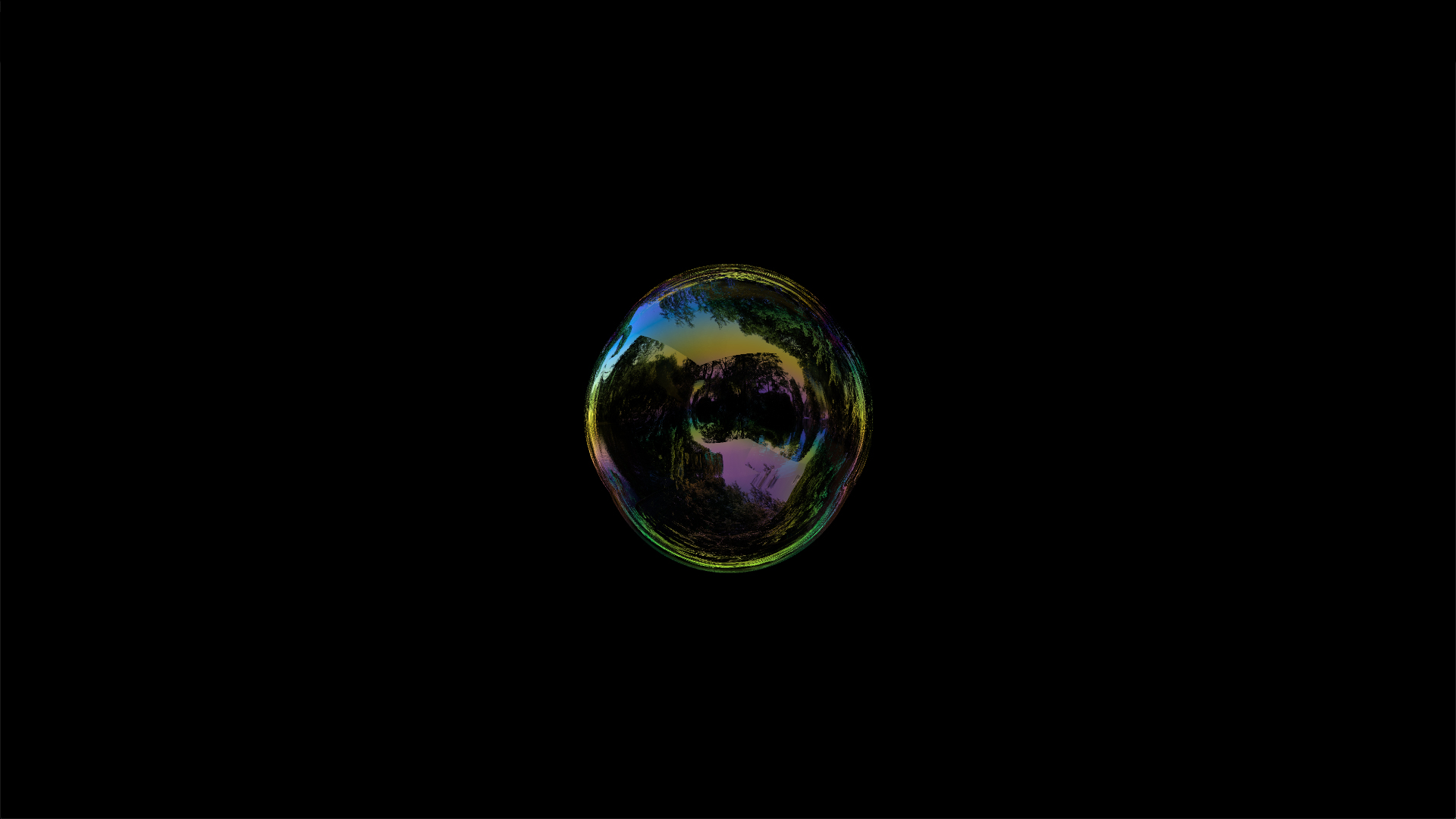 And of course the final physical-based soap bubble with the 360° HDRi Skybox texture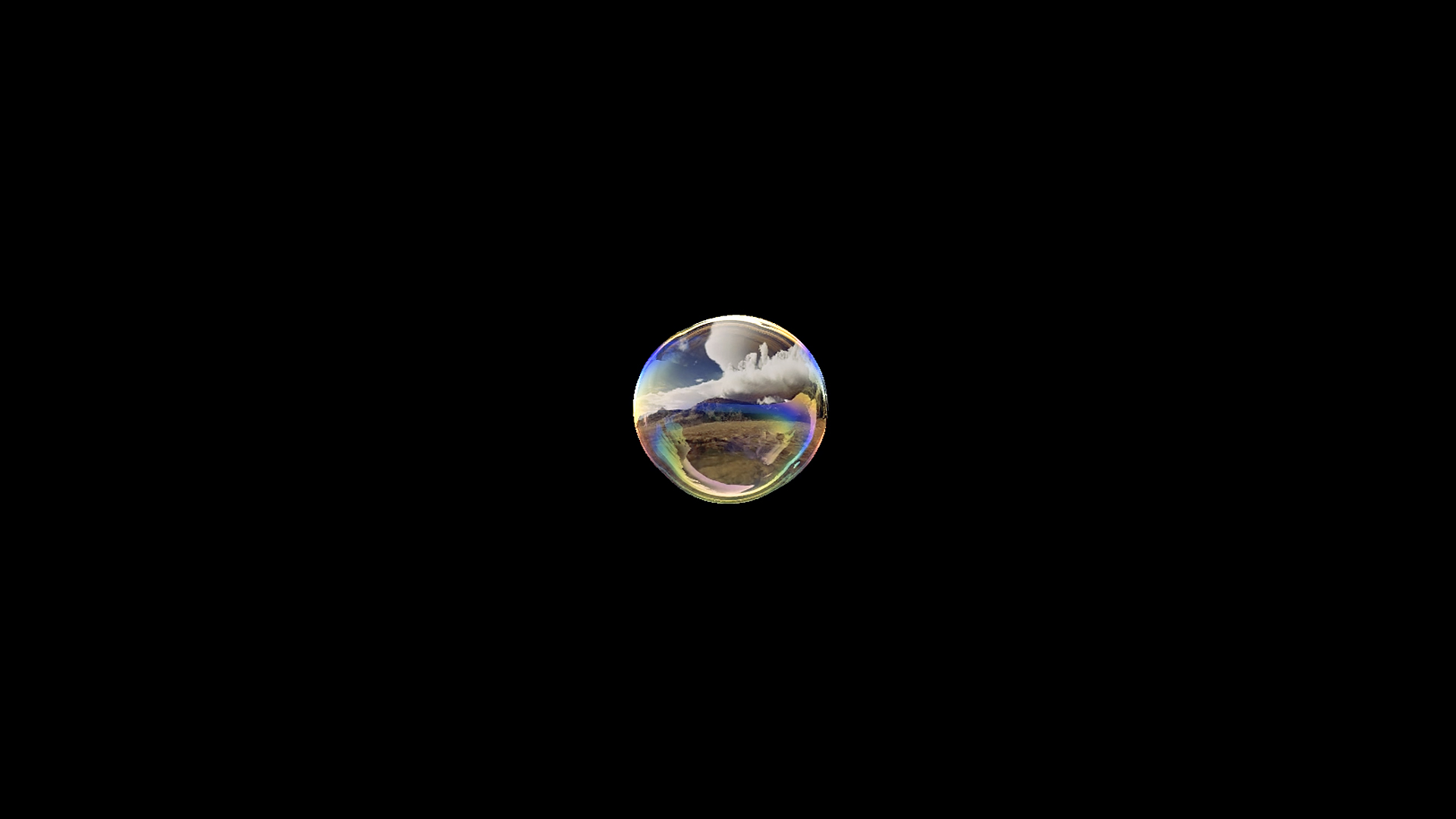 Soap bubble with 360° HDRi Skybox texture (GIF)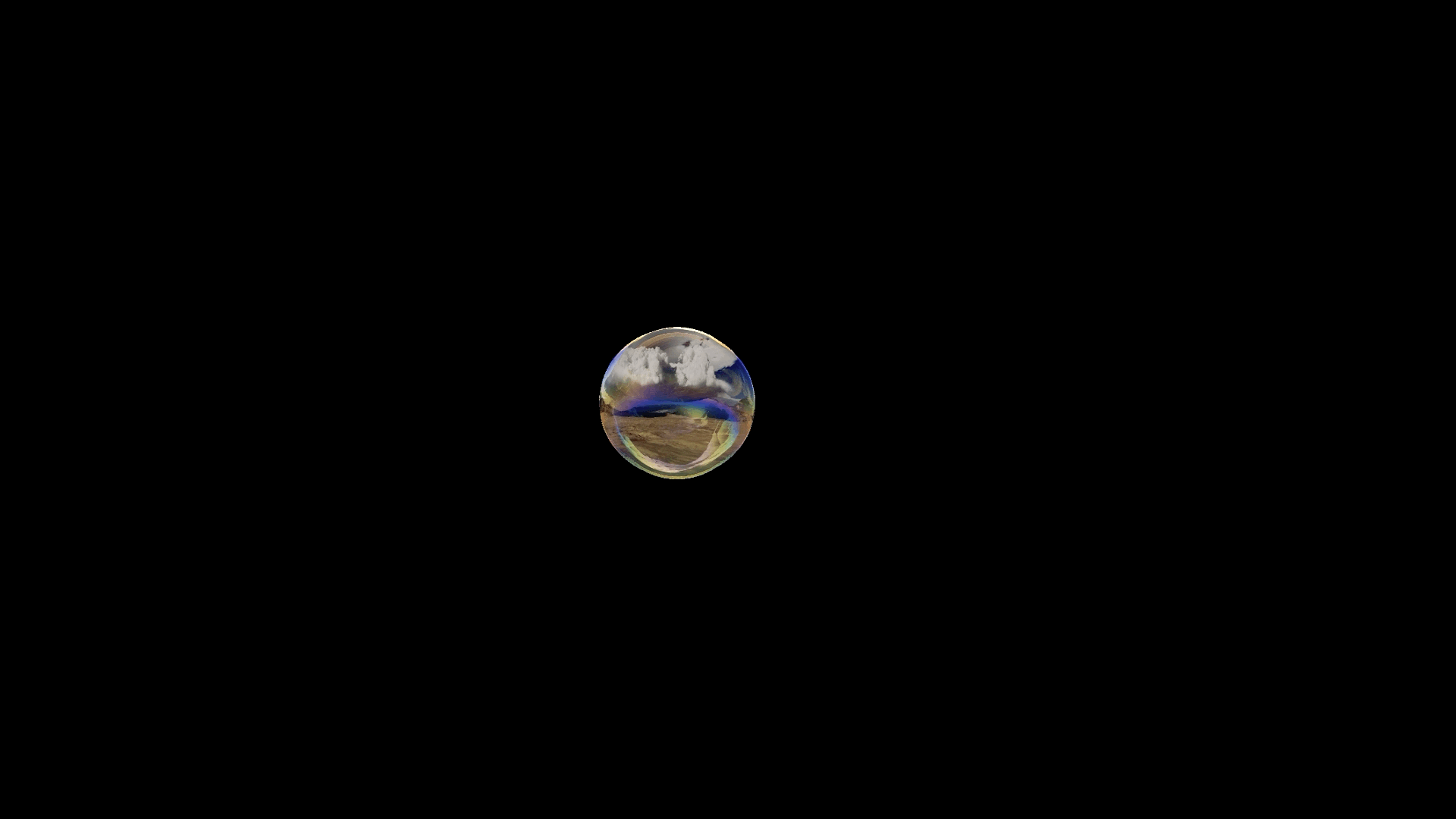 Here are some pictures from the video shooting. The shooting took place at the Photo-Video Studio of the btk – University of Applied Sciences Europe where I was teaching for many years.
Setting up the lights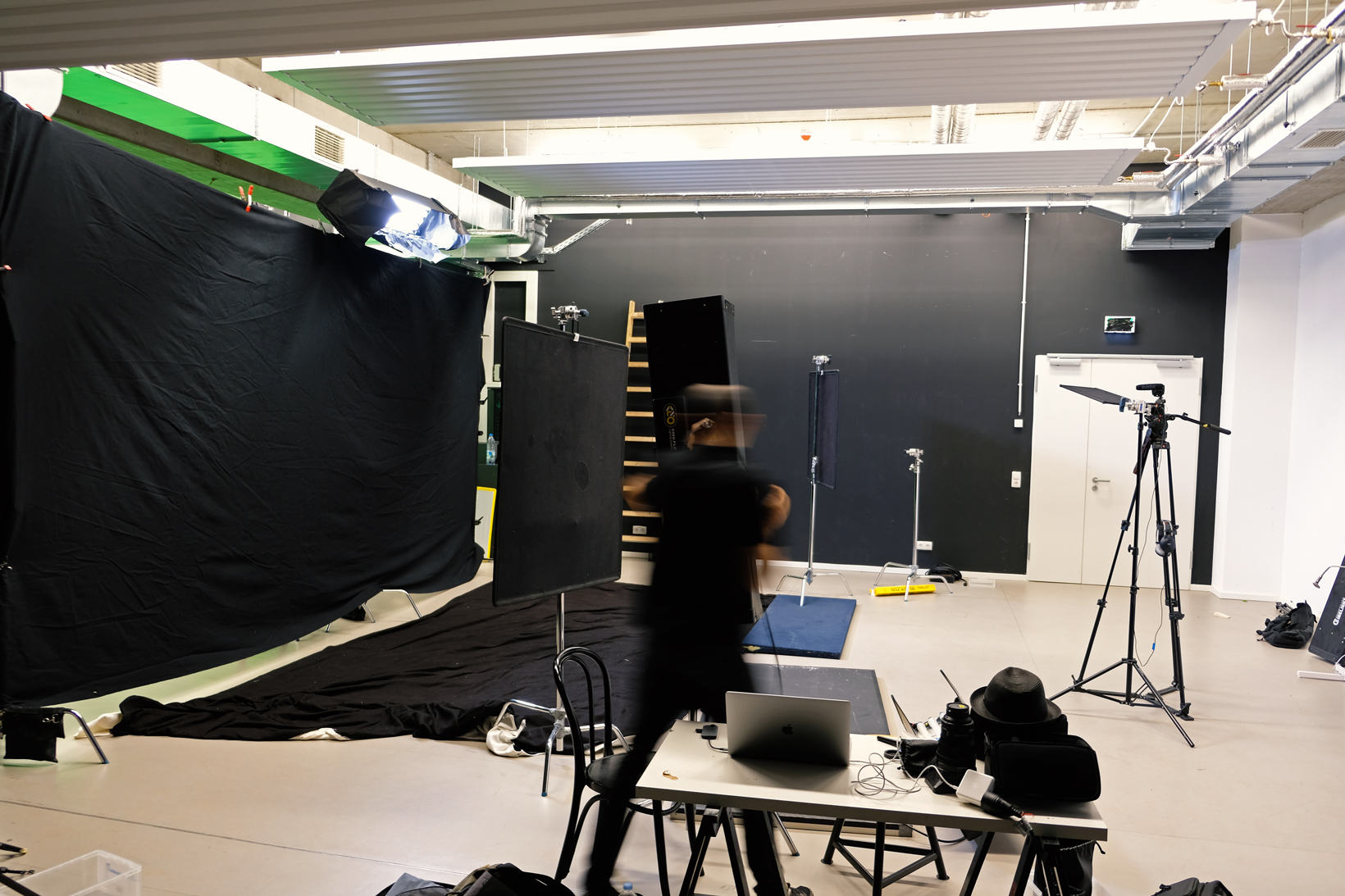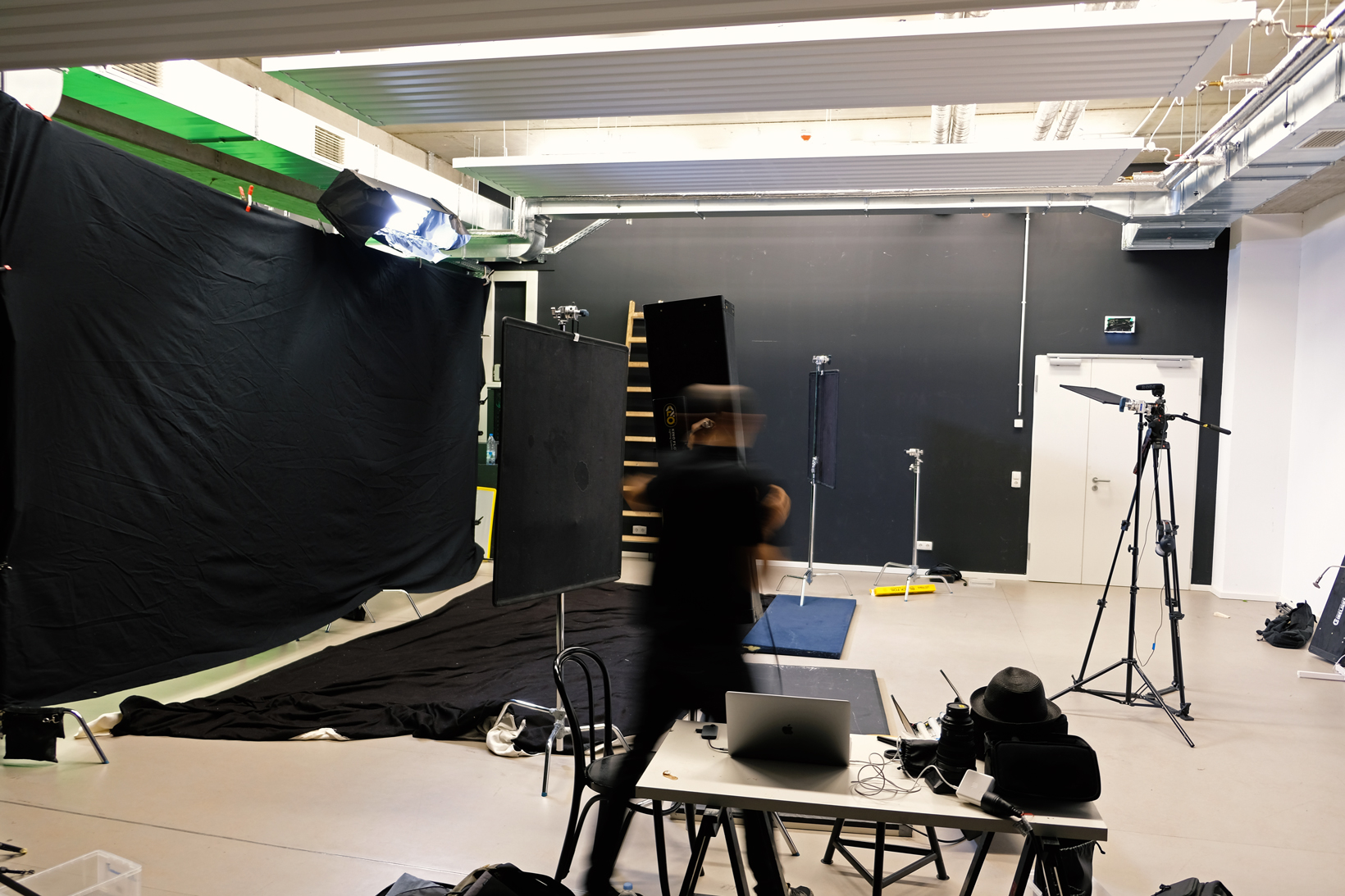 Video shooting setting with an infinite black background out of molleton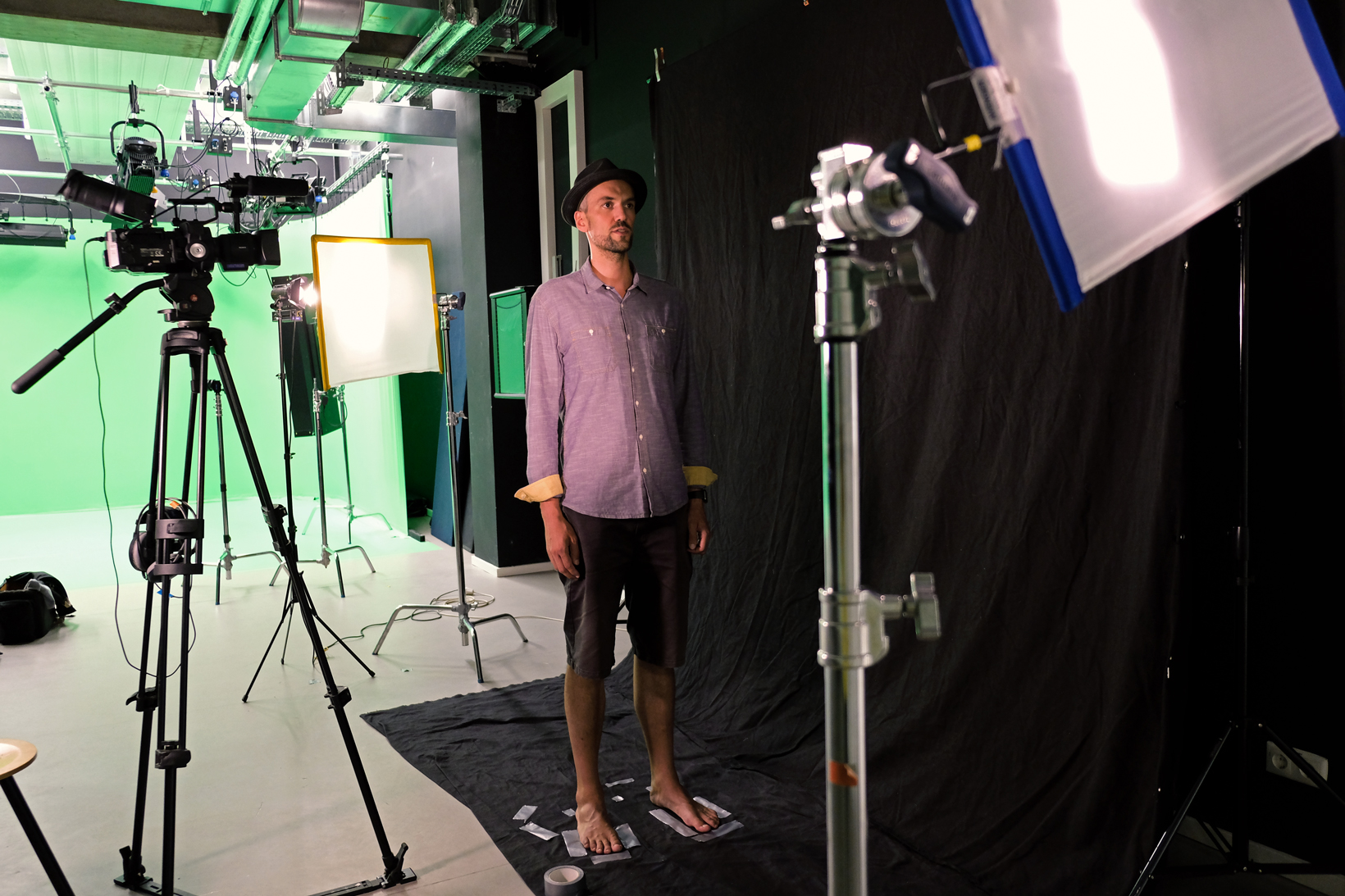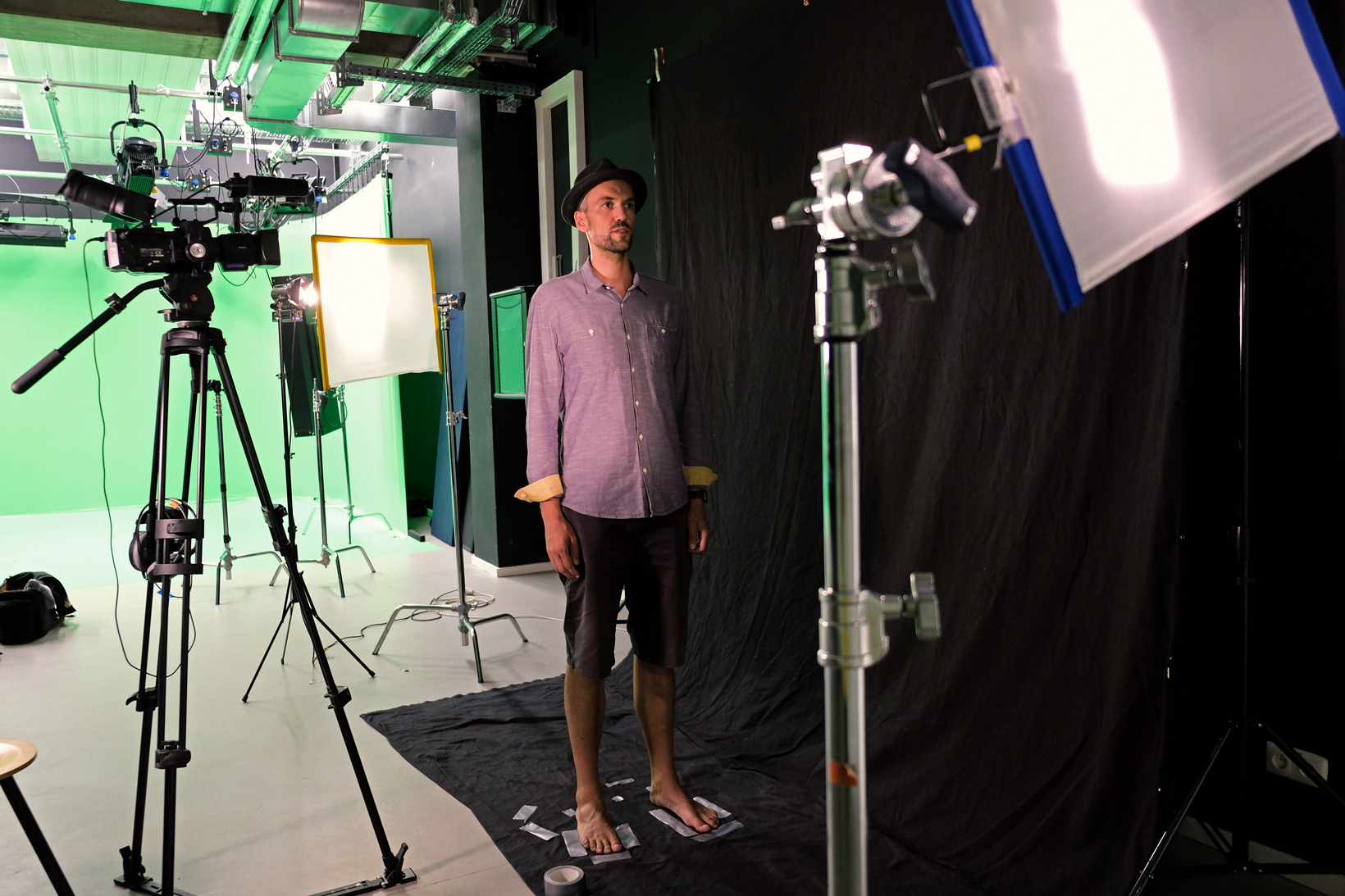 Editing desk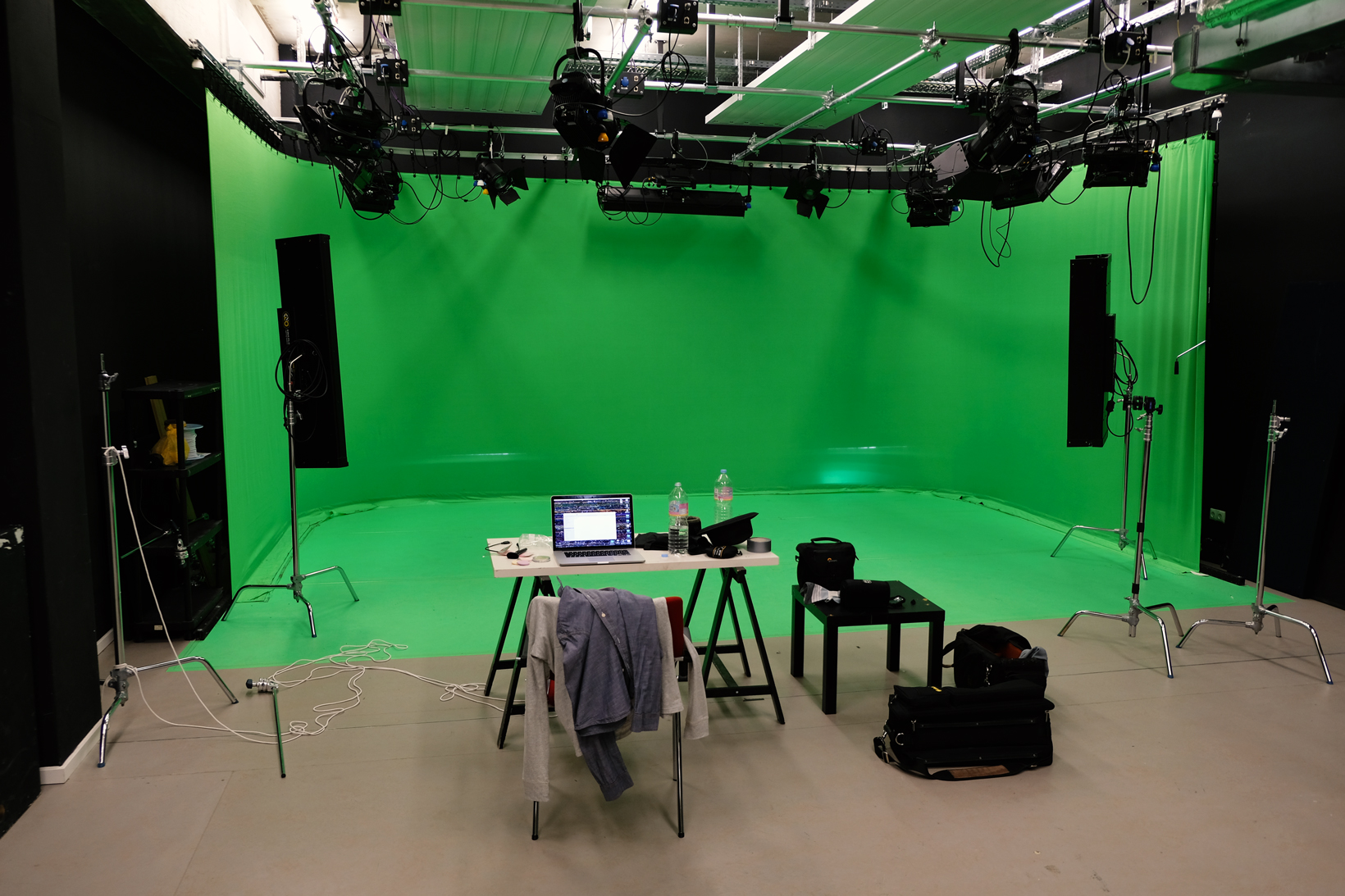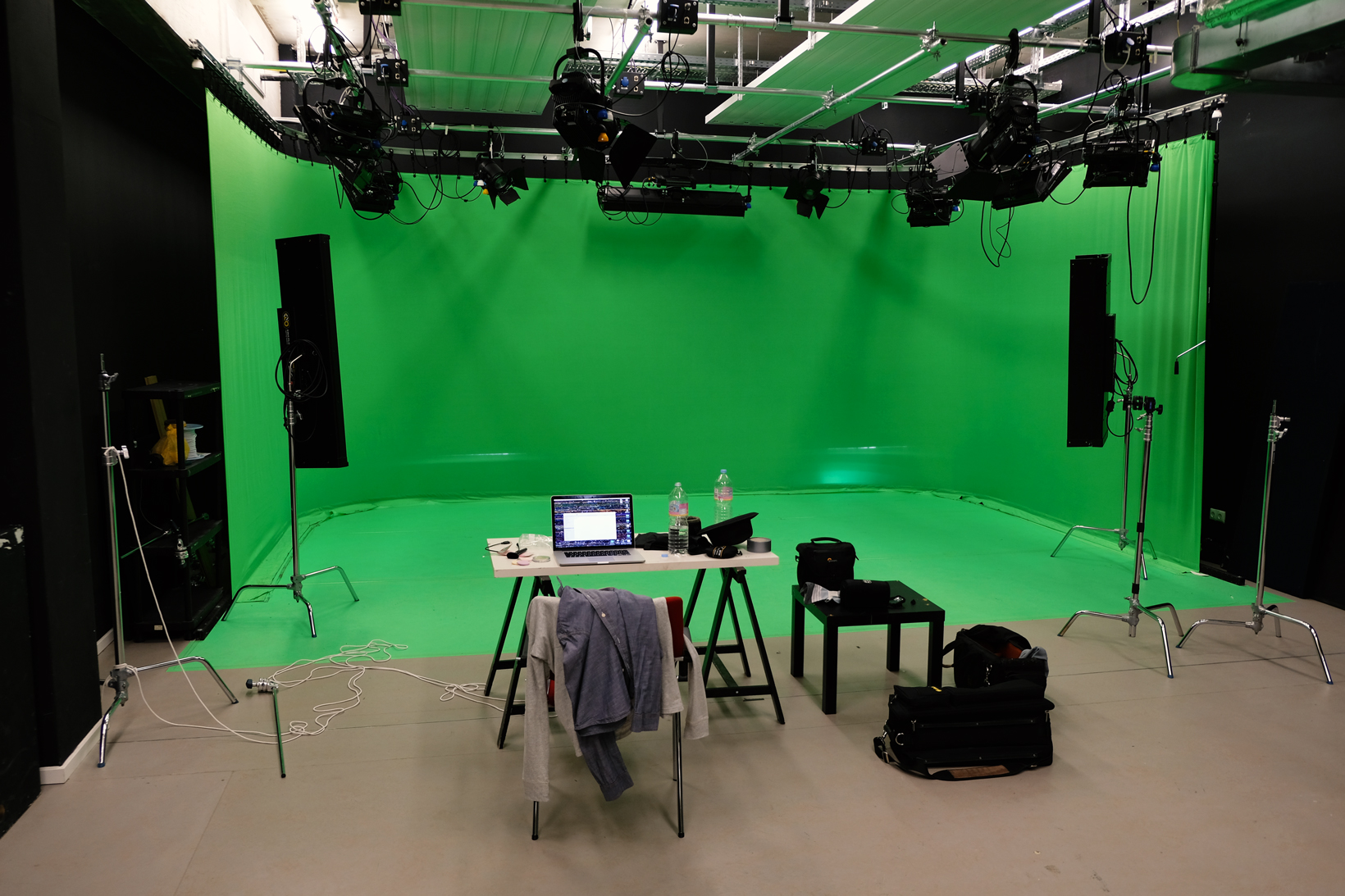 Here are the final shots after grading and color shading. Everything was shot with a full-frame mirrorless Sony Alpha a7SII camera in S-Log gamma (Full HD 1920×1080 at 50 FPS).
Left screen close-up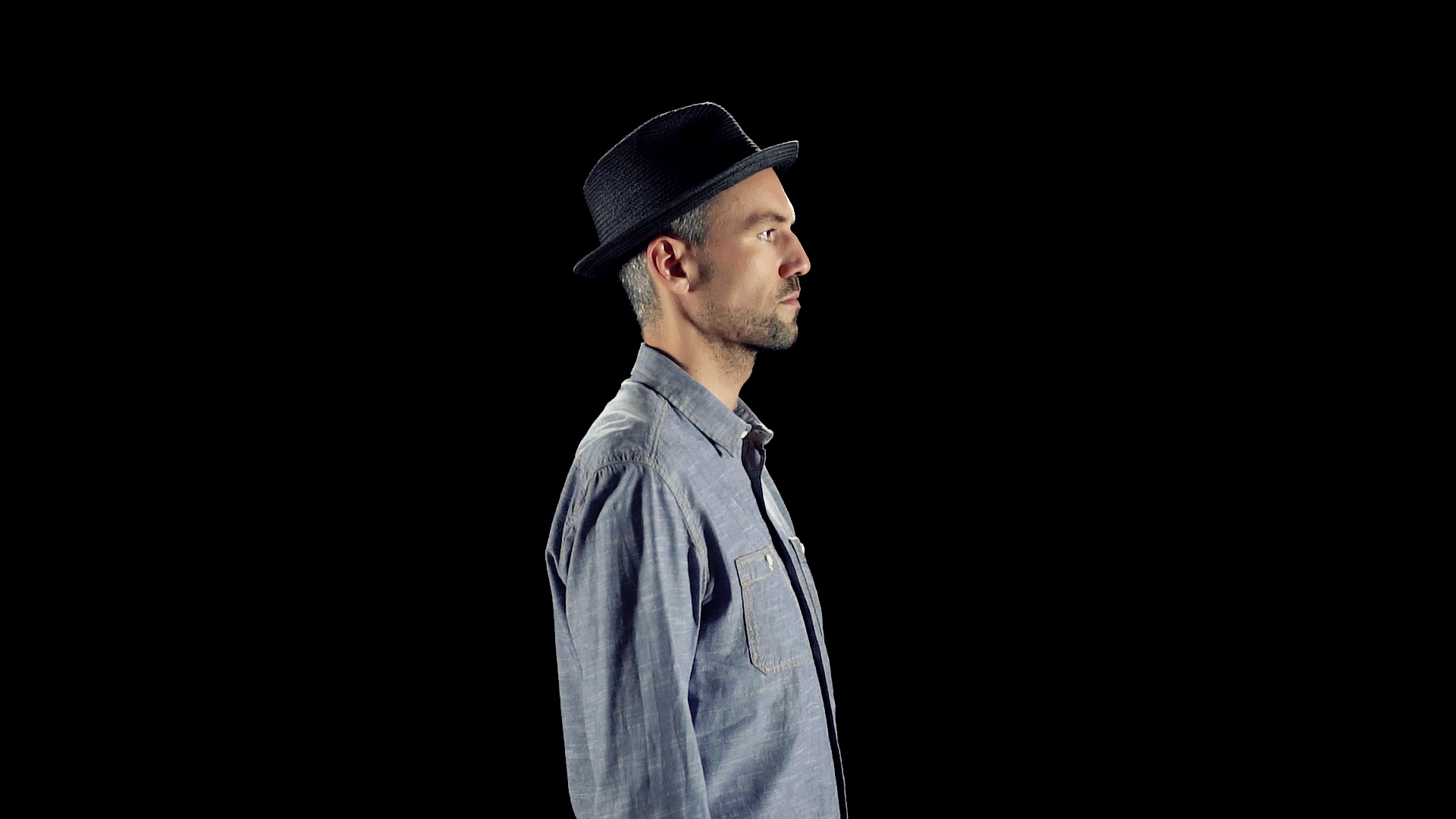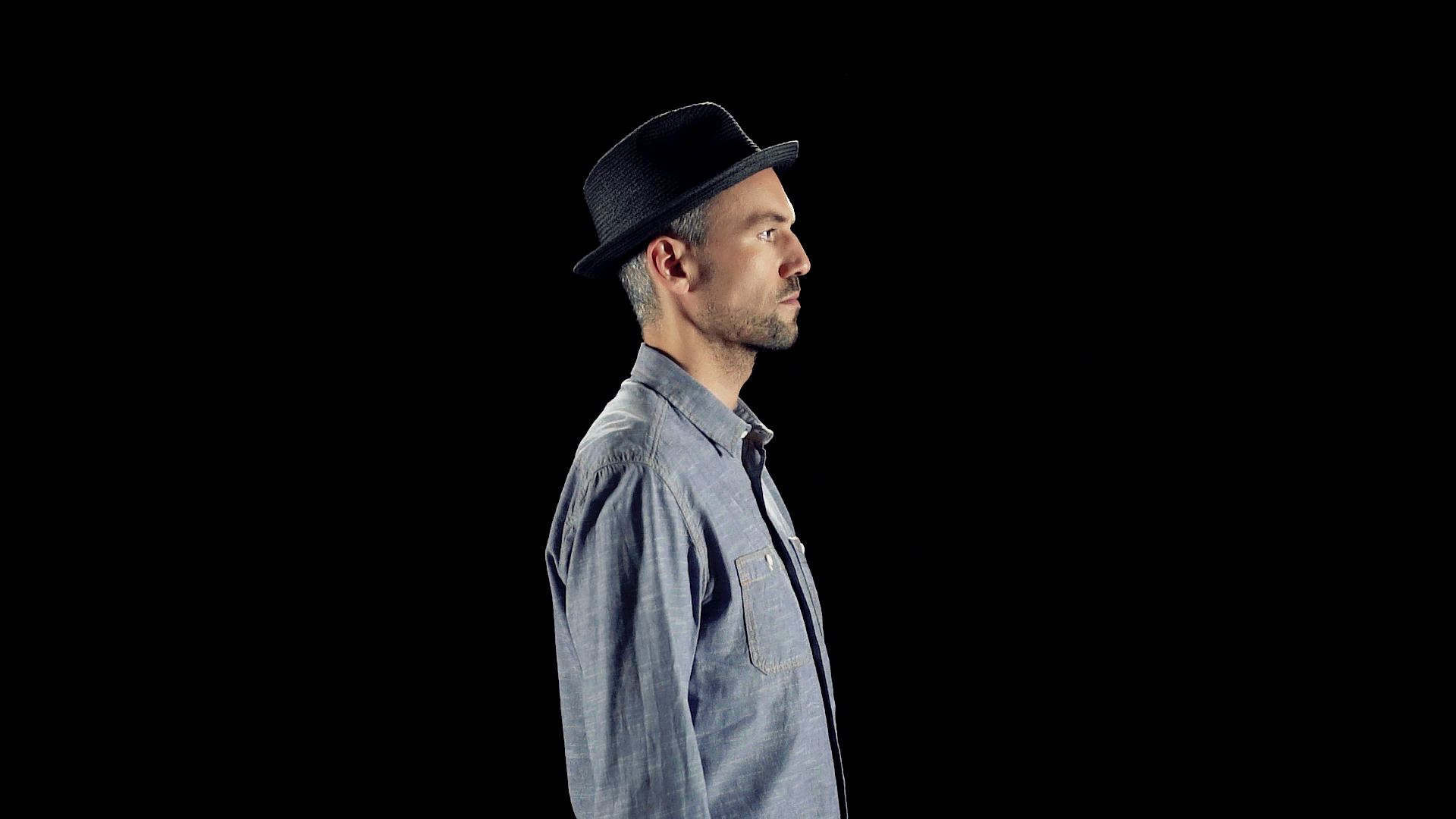 Right screen close-up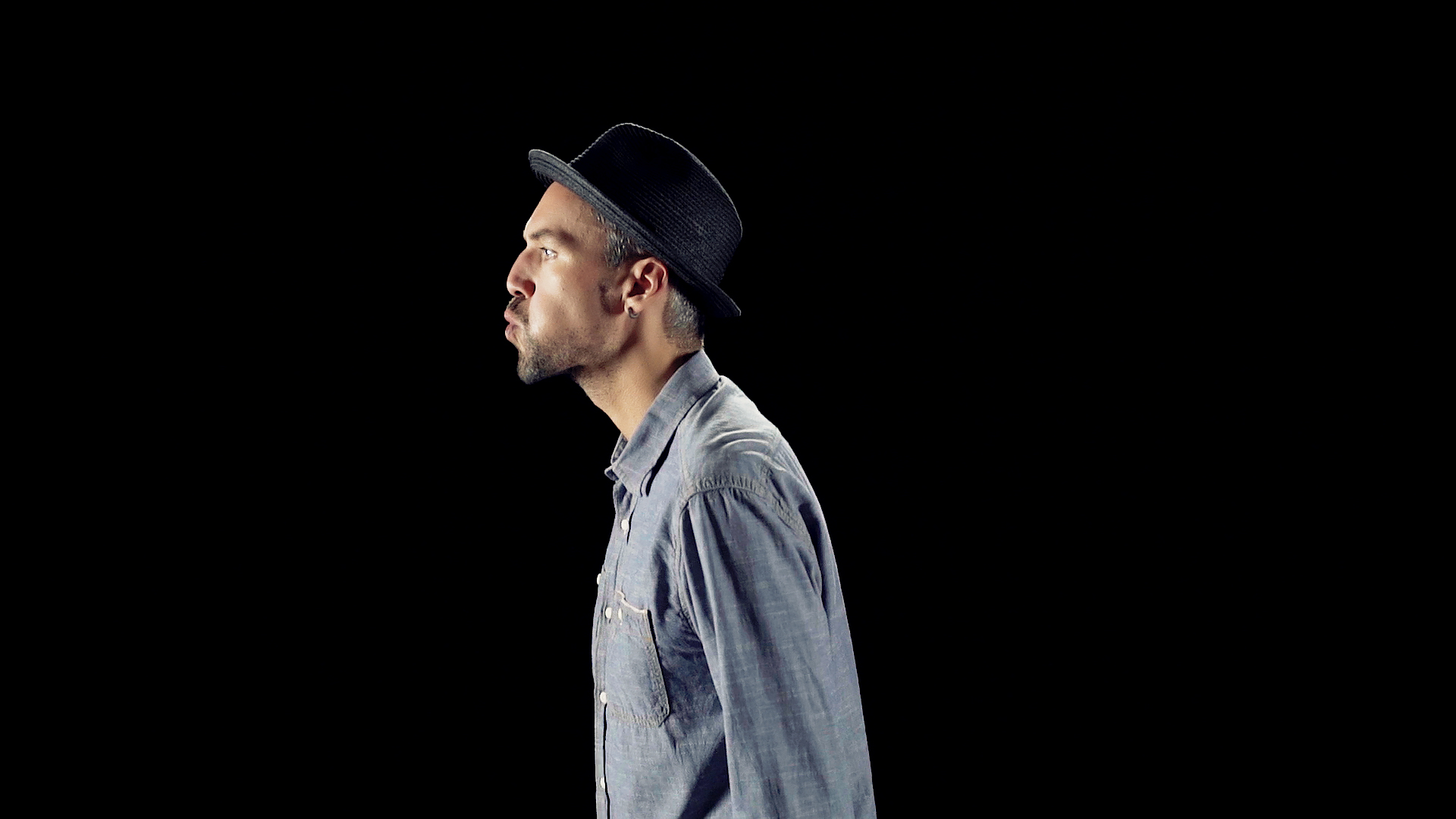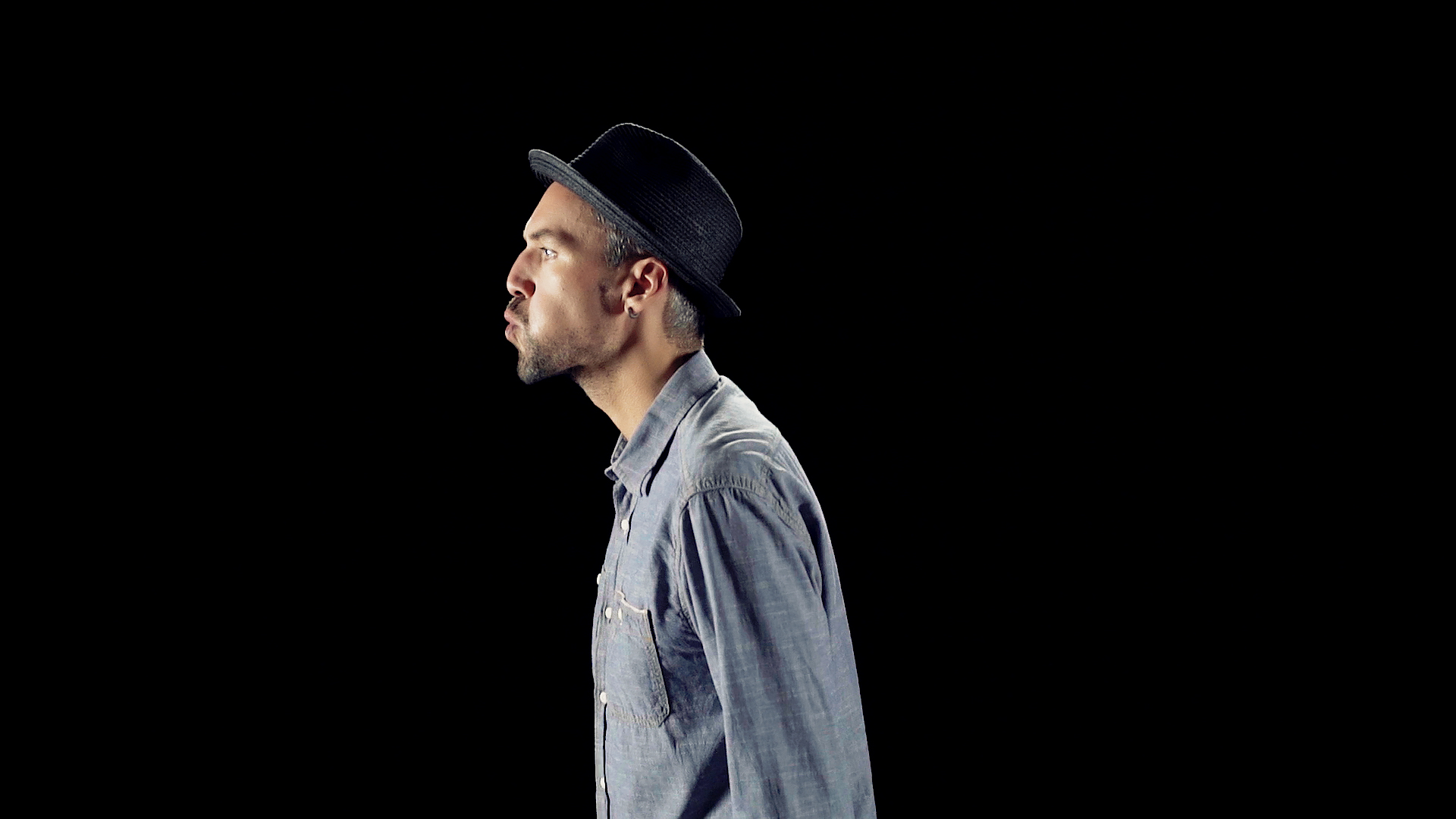 Screen View with all the three screens in one short GIF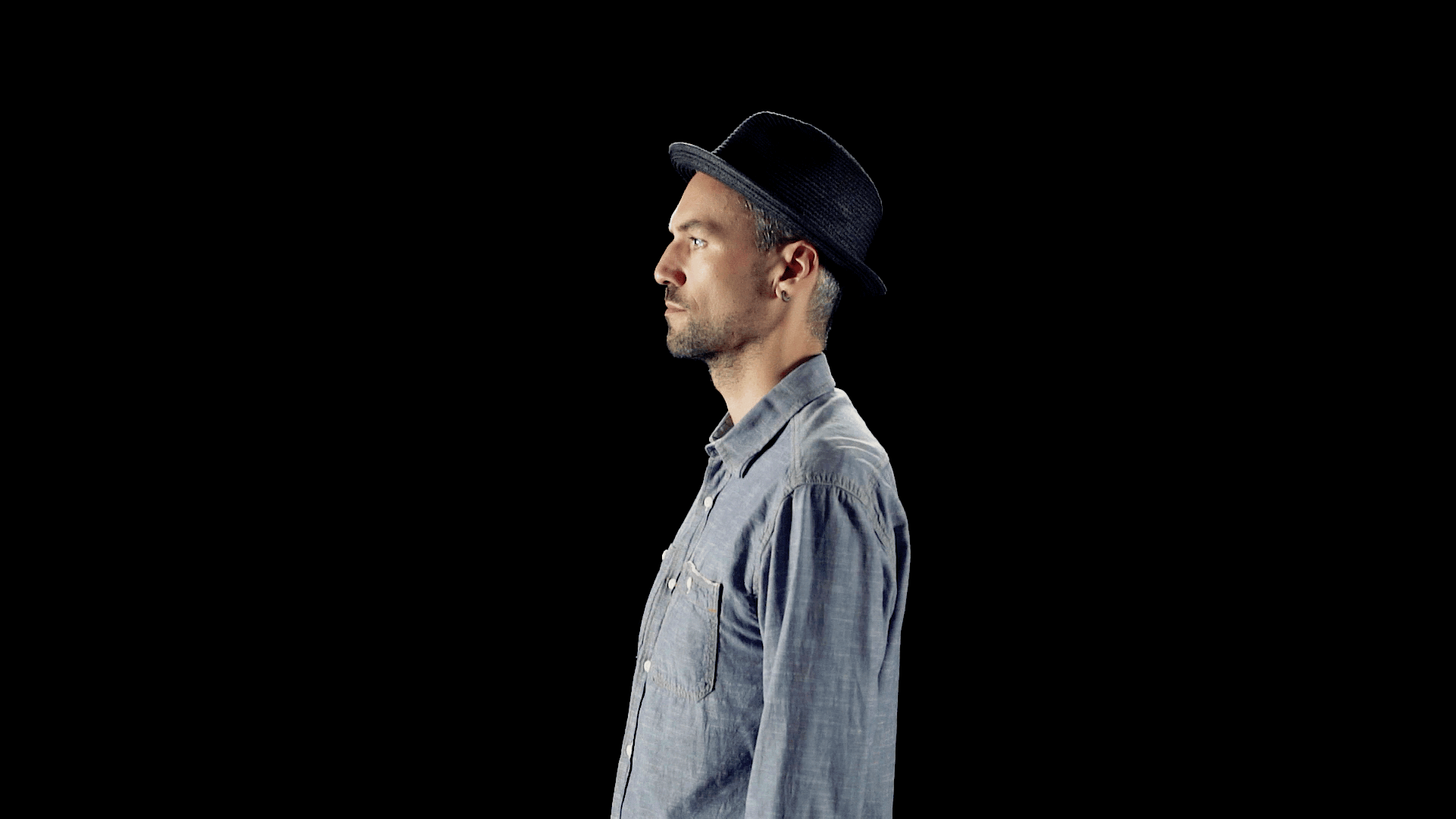 Credits
Idea, Concept and Production: Studio Martin Backes
Software Design: Martin Backes
Programming and CGI: Federico Foderaro
DOP, Camera and Light: Patrick Jasim
And of course I would like to thank my friends for all their support from day one, for video checking, shooting assistance, text proofreading/revising and lots of advices, namely Alexander Bley, Matt Jackson, Brankica Zatarakoska, Momo Carolina and Keda Breeze. And of course Federico Foderaro for each and every step along the way and last but not least Eric Berg and the btk – University of Applied Sciences Europe for giving us the opportunity to shoot at their wonderful Photo-Video Studio. Thanks a lot ❤❤❤