Solo Exhibition at Mochvara Gallery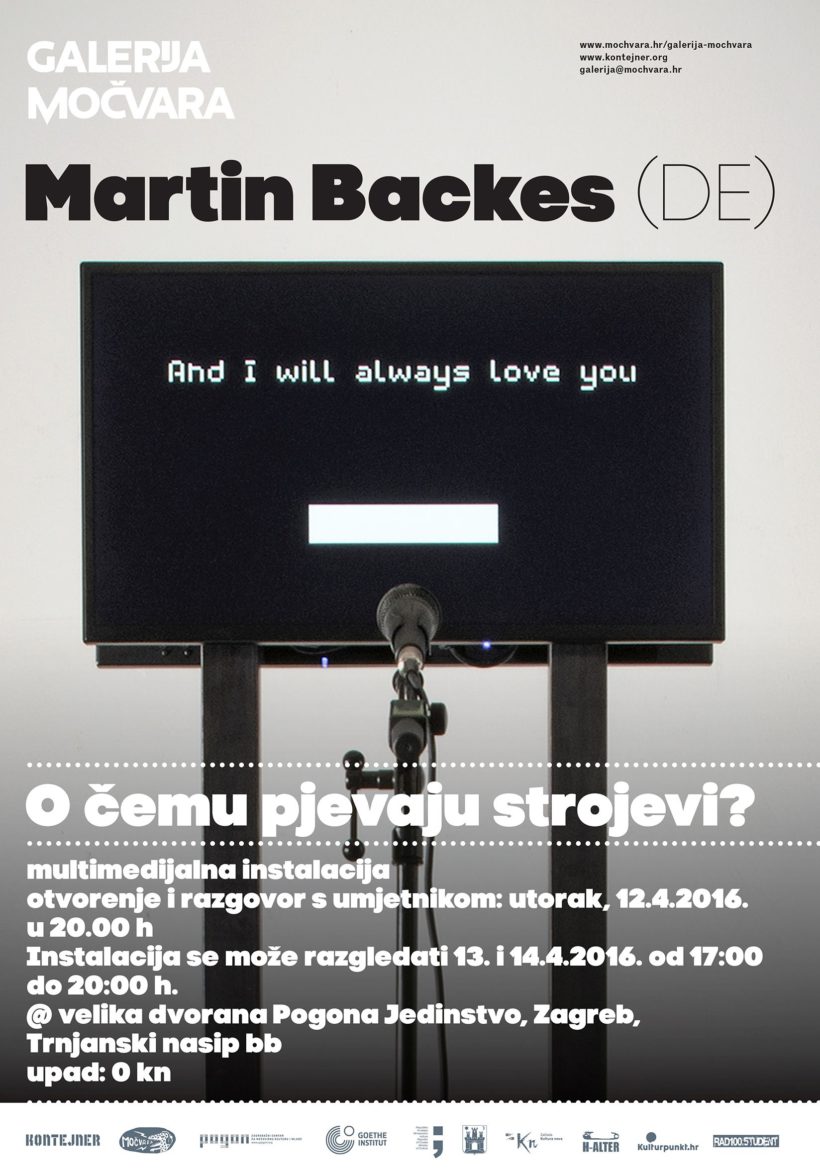 I am really happy to announce my first solo exhibition in Zagreb (Croatia) in collaboration with Mochvara Gallery and KONTEJNER.

About
The new event in Mochvara Gallery is dedicated to the music of love and to gentle, sentimental feelings – but in an arrangement that is somewhat different from what the ballad lovers are used to. As a part of the program of Zagreb's gallery dedicated to sound art, German artist Martin Backes presents his multimedia installation with the intriguing title "What do machines sing of?". Alongside the sweet-sounding performance of some of the greatest hit-ballads of the 90s, such as the epical "I Will Always Love You" by Whitney Houston, this singing device uses a computer program to detect emotions in each of the songs and to incorporate them in its song interpretation and performance – almost as if it wanted to show the sophistication of a real singer and express its own personality. The exhibition opens on Tuesday, April 12 at 8:00 p.m. at Pogon Jedinstvo and includes an artist talk during which Martin Backes will explain the key ideas behind this work.
Organizers
Culture Development Association "URK" + Mochvara Club & KONTEJNER | bureau of contemporary art praxis
Media partners
H-alter, Kulturpunkt, Radio Student
Supported by
Goethe-Institut Kroatien, Ministry of Culture of the Republic of Croatia, City of Zagreb, Kultura Nova Foundation
Opening, Artist Talk and Exhibition
Opening and artist talk: Tuesday, April 12, 2016 at 8.00 p.m.
Exhibition opening hours: April 13-14, 2016 from 5.00 to 8.00 p.m.
Address
POGON Jedinstvo
Trnjanski nasip, 10000, Zagreb
Hrvatska
More info here
KONTEJNER | bureau of contemporary art praxis
Facebook Event