Faceless Exhibition Amsterdam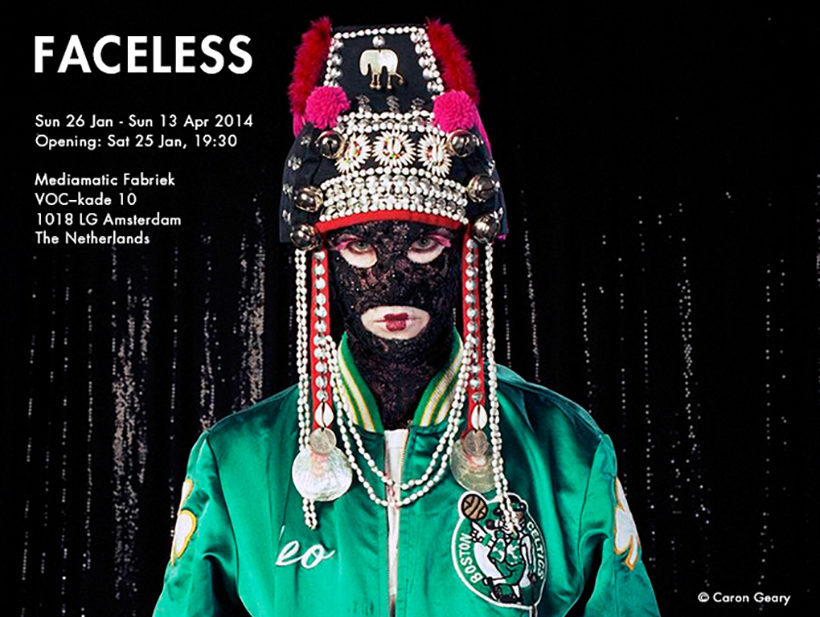 Once again my work Pixelhead will be shown at the FACELESS exhibition. Faceless was exhibited in two separate parts at freiraum quartier21 in Vienna. The installation at Mediamatic Amsterdam marks the first time the exhibition can be viewed as a whole. Curated by artist Bogomir Doringer in support of Brigitte Felderer.
About
Faceless explores the face in art, fashion and society. After 9/11 the media was flooded with pictures of masked terrorists; anonymous ghosts that reminded us of unknown danger. Artists, fashion designers and photographers responded to these images and researched in their own way what it meant to be faceless. An exhibition about loss of face, seduction, surveillance and privacy.
Artists
Marina Abramović, Martin Backes, Jeremy Bailey, Jonathan Barnbrook for David Bowie, Aram Bartholl, William Basinski, Marc Bijl, Zach Blas, Heiko Bressnik, Thorsten Brinkmann, Ondrej Brody & Kristofer Paetau, Mark Brown, Asger Carlsen, Ben DeHaan, Sofie Groot Dengerink, Nezaket Ekici, Arthur Elsenaar, Shahram Entekhabi, Caron Geary aka FERAL is KINKY, Hrafnhildur Gissurardóttir, David Haines, Ren Hang, Adam Harvey, Sabi van Hemert, Ursula Hübner, Damier Johnson aka REBEL YUTHS, Katsuya Kamo for Junya Watanabe COMME des GARÇONS, KATSU, Brian Kenny, Ute Klein, Nienke Klunder, Jakob Lena Knebl & Thomas Hörl, Miodrag Krkobabić, Mirko Lazović, Theo-Mass Lexileictous, Vanessa Lodigiani, Zachari Logan, Jill Magid, Maison Martin Margiela, Alberto de Michele, Bob Miloshević, Jelena Misković, Slava Mogutin, Veljko Onjin, Bernd Oppl, Tanja Ostojić, Marco Pezzotta, Gareth Pugh, Eva-Maria Raab, RAF SIMONS, Ana Rajcevic, Daphne Rosenthal, Tarron Ruiz-Avila, Mustafa Sabbagh, Olivier de Sagazan, Daniel Sannwald for WOODKID, Bryan Lewis Saunders, Frank Schallmaier, Hester Scheurwater, Tim Silver, Jan Stradtmann, Sergei Sviatchenko, Jun Takahashi for UNDERCOVER, Maiko Takeda, Saša Tkačenko, Marc Turlan, Levi van Veluw, Ari Versluis & Ellie Uyttenbroek, Viktor & Rolf, Philippe Vogelenzang & Majid Karrouch, Daniel Vom Keller, Martin C de Waal, Addie Wagenknecht & Stefan Hechenberger, Anne Wenzel, Bernhard Willhelm, Andrew Norman Wilson, and Lucy Wood.
Please find the press text above also by clicking this link.
More info here