Faceless Exhibition Berlin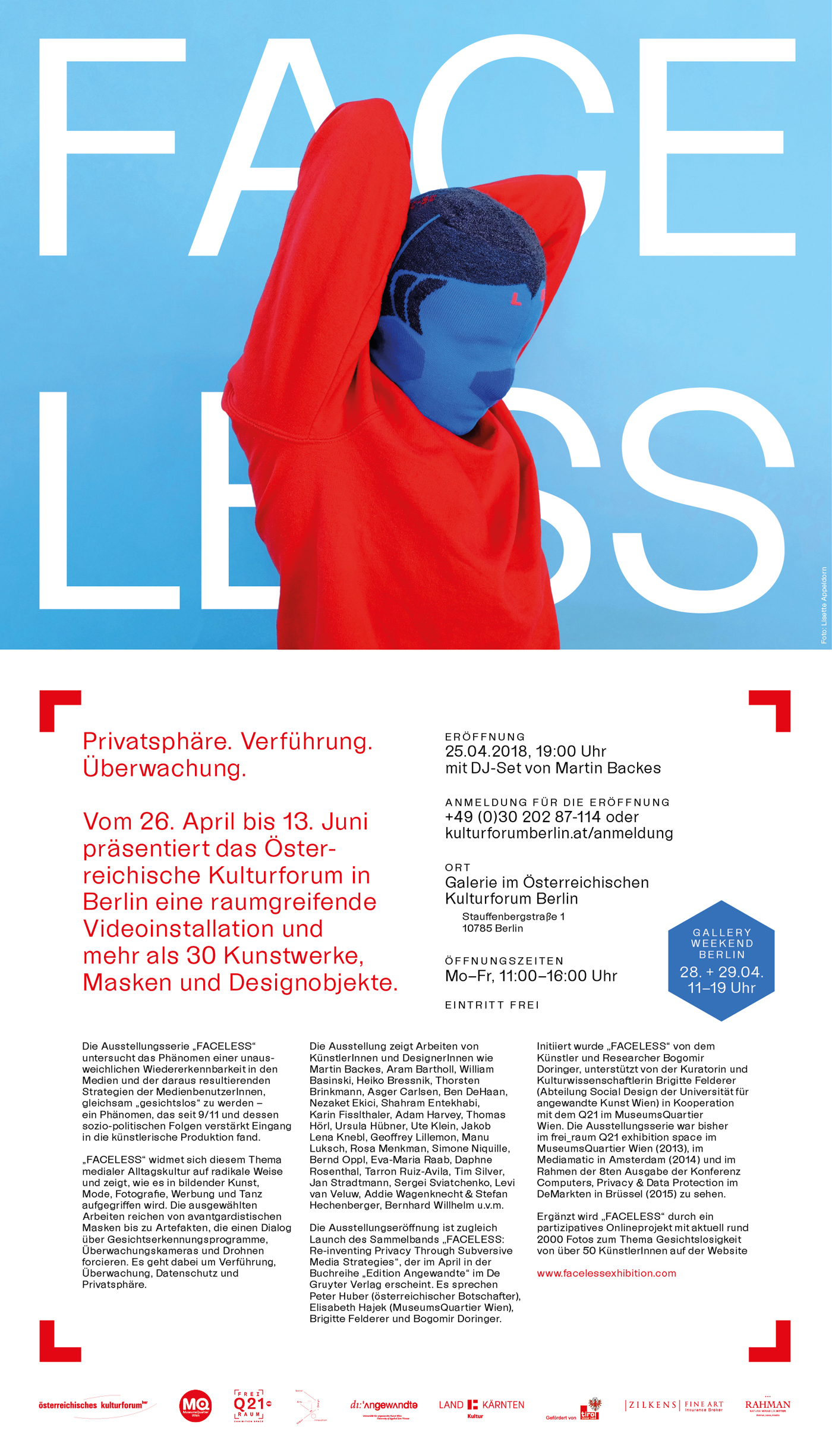 Finally, the FACELESS exhibition comes to Berlin as part of Gallery Weekend Berlin. Once again my work Pixelhead will be part of the exhibition and I will also be DJing at the opening party.
Trailer
About
From 26 April until 13 June 2018 an extensive video installation in combination with framed works, masks and objects from the exhibition series "FACELESS" will be presented at the Gallery of the Austrian Cultural Forum Berlin. More than 30 works will be converted into digital format by various software and face-swapping apps, showing an apparent trend in art, fashion and the media since the turn of the century.
The exhibition series "FACELESS" explores the phenomenon of inescapable recognizability in the media and the resulting strategies of media users to become virtually faceless – a phenomenon that has become increasingly common in artistic practice after 9/11 and its socio-political consequences.
"FACELESS" takes a radical look at this fairly recent phenomenon of everyday media culture and shows how it manifests in visual art, fashion, photography, advertising and dance. The works on show range from avant-garde masks to pieces that force open a dialogue with facial recognition software, surveillance cameras and drones. Themes included are seduction, surveillance and privacy.
The show features works by artists and designers such as Addie Wagenknecht & Stefan Hechenberger, Ute Klein, Aram Bartholl, Martin Backes, Thorsten Brinkmann, Asger Carlsen, Shahram Entekhabi, Karin Fisslthaler, Adam Harvey, Manu Luksch, Thomas Hörl & Jakob Lena Knebl, Geoffrey Lillemon, Simone Niquille, Bernd Oppl, Jan Stradtmann, Levi van Veluw, Bernhard Willhelm and many more…
"FACELESS" has been organized by the artist and researcher Bogomir Doringer, supported by the curator and cultural studies scholar Brigitte Felderer (Department of Social Design / University of Applied Arts Vienna) in collaboration with Q21 at MQ – MuseumsQuartier Wien.
The exhibition series has been shown at the frei_raum Q21 exhibition space in the MuseumsQuartier Wien (2013), Stichting Mediamatic in Amsterdam (2014), and at De Markten, Brussels, as part of the 8th Computers, Privacy & Data Protection Conference.
"FACELESS" additionally features around 2000 photos on the theme of facelessness contributed by visitors to the website www.facelessexhibition.com.
NEW PUBLICATION will contribute to the event:
FACELESS: Re-inventing Privacy Through Subversive Media Strategies
In April 2018 De Gruyter Verlag is publishing "FACELESS: Re-inventing Privacy Through Subversive Media Strategies" in the University of Applied Arts Vienna's book series "Edition Angewandte". The volume addresses current positions and approaches in contemporary art and media practices in the age of technological surveillance.
DJ Set by Martin Backes
Photo: Lisette Appeldorn
Poster design: Maximilian Mauracher
Dates
Opening and DJ-Set: April 25, 2018, 19:00
Exhibition: April 26 – June 13, 2018, 11:00 – 16:00
Admission
Admission is free, but please register beforehand!
Registration: +49 (0)30 202 87-114 or Registration
Location
Österreichisches Kulturforum Berlin
Stauffenbergstraße 1
10785 Tiergarten, Berlin, Germany
More info here