Opening, World Listening Day & DJ-Set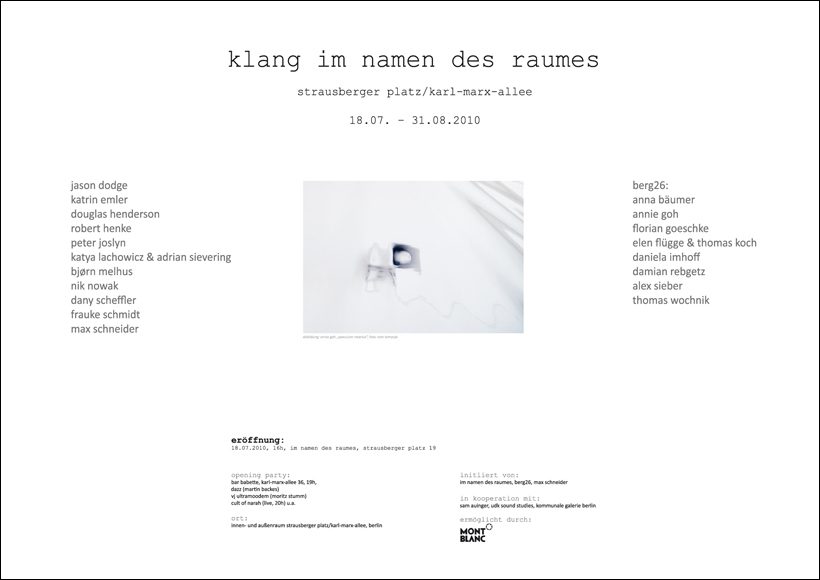 This time no piece of art by myself but I will perform as a DJ together with VJ Ultramoodem at this family happening called Klang im Namen des Raumes on Sunday, July 18, 2010.
With this exhibition we are also part of the first World Listening Day. So I will perform as DJ with a special selection of tracks for your listening pleasure.
Opening
klang im namen des raumes: klangkunstprojekt strausberger platz/karl-marx-allee
18.07.2010, 16h, im namen des raumes, Strausberger Platz 19, 10243 Berlin
Exhibition: 18.07. – 29.08.2010
Works from
Jason Dodge
Katrin Emler
Douglas Henderson
Robert Henke
Peter Joslyn
Bjørn Melhus
Nik Nowak
Dany Scheffler
Max Schneider
Frauke Schmidt
Katya Lachowicz und Adrian Sievering
Artist collective Berg26 "The world's not listening day":
Anna Bäumer
Elen Flügge und Thomas Koch
Florian Goeschke
Annie Goh
Daniela Imhoff
Damian Rebgetz
Alex Sieber
Thomas Wochnik
Place
various indoor and outdoor locations Strausberger Platz/Karl-Marx-Allee, Berlin, between U Strausberger Platz and U Frankfurter Tor.
Initiated by
im namen des raumes, Berg26, Max Schneider
In cooperation with
Sam Auinger, UDK Sound Studies, Kommunale Galerie Berlin, Worldlistening project
Opening Party
Bar Babette, Karl-Marx-Allee 36, 19h
Music
Dazz (Martin Backes)
Visuals by ultramoodem (Moritz Stumm)
Cult of Nahra (live)
Exhibition
From 18th July until 29th August 2010, the historical Karl-Marx-Alle will be transformed with numerous auditive discoveries. Between Strausberger Platz and Frankfurter Tor, the gallery im namen des raumes, the artist collective Berg26 and Max Schneider have come together to mark the first World Listening Day with a sound-art exhibition that engages the whole of this art district in the middle of Berlin. Internationally acclaimed artists such as Bjoern Melhus, Jason Dodge, Douglas Henderson and Robert Henke in cooperation Berg26 will show works indoors and outdoors along the Karl-Marx Allee. Amongst the twenty-five works, consisting of video im namen des raumes forum für kunst, design & genuss installations, sound-sculptures and performances, many deal with the history and contemporary meaning of this area.
The whole project klang im namen des raumes, which stretches from Strausberger Platz 19 along the Karl-Marx Allee up to Frankfurter Tor with its twenty-five sound installations, video works and performances, was made possible due to the untiring motivation of the participants and the kind cooperation of the galleries and proprietors involved. The costly installation of Bjoern Melhus' work was kindly undertaken by Montblanc, who have our special thanks. Klang im namen des raumes, similarly to the initiative undertaken in May with the joint-gallery map of the area, for which we thank Nowadays, aims to draw attention to and realise the extraordinary potential of the area of Karl-Marx Allee.
The gallery im namen des raumes, located on Strausberger Platz serves as an information centre and start point to the project: here, the visitors will receive a exhibition map and information about the works and artists, as well as headphones and radio receivers and can then make their own way around the art works distributed in the area. The landmark district of Karl-Marx Allee can be discovered at the visitor's own pace with all their senses. The interdisciplinary art project brings the question the auditive conditions, affects and qualities of this urban space and opens up the discussion to the residents, visitors, observers and listeners.
klang im namen des raumes asks the question, what do our senses have to offer within our urban living space and how do they shape the ways we organise our social and economic lives. Stories will be told and the hidden will be exposed. A particular interest is the auditive as an aspect of the urban environment in around Strausberger Platz and Karl-Marx Allee, in the present (?) as well as historical context. The exhibition places itself within an artistic discourse which deals with the auditive situation of our urban environments. In the gallery itself, installations from Florian Goeschke, Jason Dodge, Douglas Henderson and Peter Josyln will be presented, on and around Strausberger Platz, "Treehouse"#2 from Bjoern Melhus as well as the "White Chair Project" from Elen Flügge and Thomas Koch and Daniela Imhoff's installation will be found. Along the Karl-Marx Allee various works will use the window fronts of unused offices as well as various galleries empty during their summer break, as a way to present video-installations, which have headphone sockets to enable visitors to plug in and hear the audio.
These works are based on the theme of artistic intervention in residential and everyday situations, as well as our perception of public urban space. To think with the ears and consider the auditive environment of this area is another aspect of this – the works are an invitation to make a break from normal, everyday perception, particularly that of urban space, and to think
and perceive it differently.
Parallel to these auditive place studies on Strausberger Platz, the students of Sound Studies at the University of Arts Berlin are exploring the area of Fehrbelliner Platz under the title CRACK*. The documentation and results of this project can be seen and heard in the Kommunalen Galerie Berlin.
Information about the first ever International World Listening Day can be found here: www.worldlisteningproject.org
More info