Exhibition neunundneunzig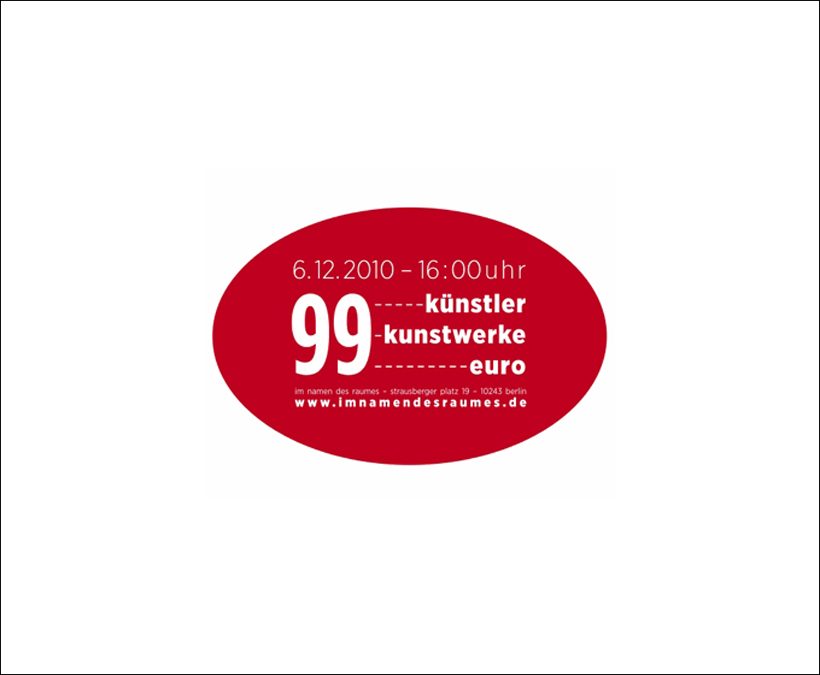 I will be part of Exhibition #5 neunundneunzig at Gallery im namen des Raumes. There will be 99 surprise packages each for the price of 99 Euros. Every package is filled with one art work made by selected artists including myself. At the moment I can`t tell what I will do, but I can say that it will be first piece of a new series. So make sure to come by to get some exclusive art works.
Artists
ana albero + florencia almiron + daniele ansidei + claudia arndt + moritz arnold + martin backes + maxime ballesteros + anna bäumer + hannes bend + tim bennett + sven bergelt + viktoria binschtok + gilbert brohl + kim coleman + claudia comte + michael conrads + ralf dereich + diana djeddi + julius dörner + brad downey + martin eder + janine eisenächer + thomas eller + elen flügge + frederike gaus + surya gied + lola göller + isabelle graeff + till hafenbrak + friederike hamann + daniel harders + katrin heichel + douglas henderson + sascha herrmann + blaike herzig + moritz hirsch + max holle + olaf holzapfel + stefan hurtig + daniela imhoff + katrinem + inga kerber + sabina keric & yvonne bayer + bettina khano + annette knol + timm knörr + thomas koch + slawjana kola + katja kollowa + christoph krönke + lilli kuschel + bo christian larsson + melody laverne bettencourt + theo ligthart + lane mccormick + jonathan meese + martti mela + bjørn melhus + zoe claire miller + borjana mrdja + jan muche + charlotte mumm + enrico nagel + claudia neuhaus + philipp neumann + alex neuschäfer + marcel noack + nik nowak + katinka pilscheur + julia prezewowsky + regine rack + rebecca raue + damian rebgetz + carlo reischies + sharman riegger + judith shu ritter + uwe schinn + karoline schneider + max schneider & alexander stefas + paul schwaderer + antje seeger + tor seidel + pola sieverding + adrian sievering + andré simonow + marlene stark + dominik steiner + stohead + despina stokou + moritz stumm + magnus thorén + tom tomczyk + malte urbschat + yps van tule + johannes vogl + hannes waldschütz + carolin weinert + clemens wolf + uta zeidler
How it works (unfortunately only in german)
jingle beuys, jingle beuys – pünktlich zu nikolaus werden die kleinen räume am strausberger platz prall gefüllt mit großen geschenken. 99 überraschungspakete von 99 künstlern zum symbolischen preis von 99 euro, blickdicht verpackt und verschnürt. die in ihnen verborgenen kunstwerke sind auf fotos in der galerie zu sehen, anonym und nummeriert, schließlich geht es um die freude am werk und nicht die investition in große namen ode…r nicht? willkommen im weihnachtlich getalteten utopia.
die namen der künstler werden wir nach und nach veröffentlichen ( ein bißchen spannung muss sein), aber eines vorab – von uns handverlesen sind sie alle gut, unabhängig davon, ob das der markt genauso sieht und über preisexplosionen ausdrückt oder nicht. um deinen favoriten zu entdecken, musst du dich auf dein gefühl verlassen und dir jede arbeit genau anschauen.
ein wunderbares geschenk bekommst du auf jeden fall: eine arbeit, die du dir ausgesucht hast, weil sie dir freude bereitet und dir etwas gibt – ästhetischen genuss, denkanstösse, interessante fragestellungen und neue perspektiven. also das, wozu kunst eigentlich da sein sollte, unabhängig davon, ob sie als geldanlage oder soziales statussymbol taugt. hast du dir so zufällig einen star gegriffen, dann herzlichen glückwunsch und fröhliche weihnachten – neben der täglichen freude an der erstandenen arbeit besitzt du nun ein kunstwerk, das ein vielfaches seines kaufpreises von 99€ wert ist.
bist du mitglied unseres freundeskreises bekommst du die chance bereits eine woche vor der offiziellen eröffnung dein lieblingsstück auszuwählen – eure kontinuierliche monatliche unterstützung hilft uns sehr und diese treue belohnen wir natürlich gerne!
wir freuen uns auf euch,
janine, alisa und hannah
(Text by Gallery im namen des Raumes)
Adresse
galerie im henselmann tower
strausberger platz 19, 10243 berlin
öffnungszeiten: mo-fr 09-17h